Where to start?
You have probably wondered how to decorate your home in an elegant and fancy way. For the umpteenth time in a row, you have been thinking about transforming your apartment. If you want to achieve the intended effect, you should take advantage of the luxury interior design projects offered by our company.
Krzysztof Chrustalew Interior Design provides services in the field of designing and arranging apartments, houses, apartments or residences. We offer our advice and luxury interior design projects in Warsaw, the Mazowieckie Voivodeship, as well as throughout Poland and Europe.
Our interiors can be found in Poznań, Kraków, Świnoujście, Sopot, Rzeszów, Zakopane, Berlin, Vienna, Dubai, London and beyond. Although Józefów is the city where our business originated, we are able to provide services far beyond it.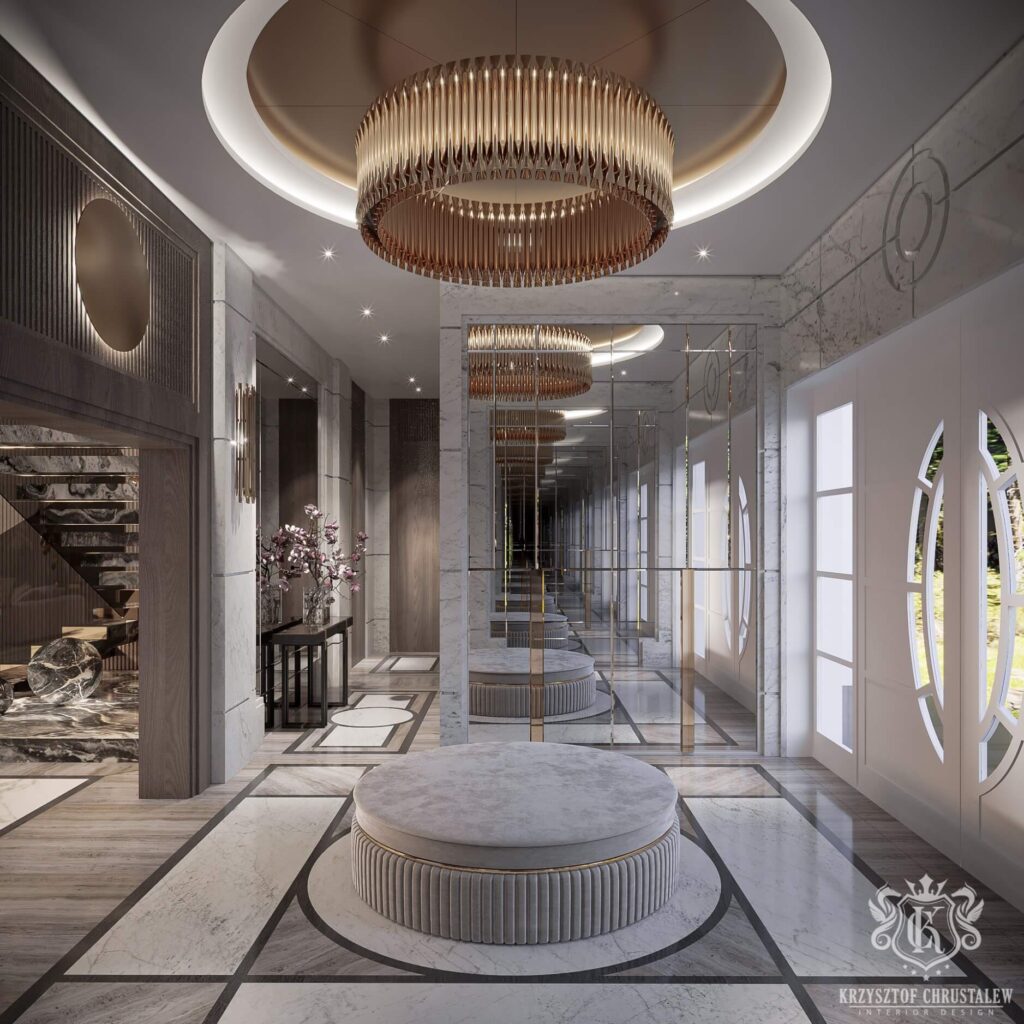 It is easy to imagine how often people who are eager to make major changes to their property do not have a clear idea or image of how the project of arranging luxury interiors in their chosen location should look like.
We are able to take on the task of designing such a space. The styles available in our offer include classic English, Provencal, art deco, New York, modern classic, modern, and glamorous.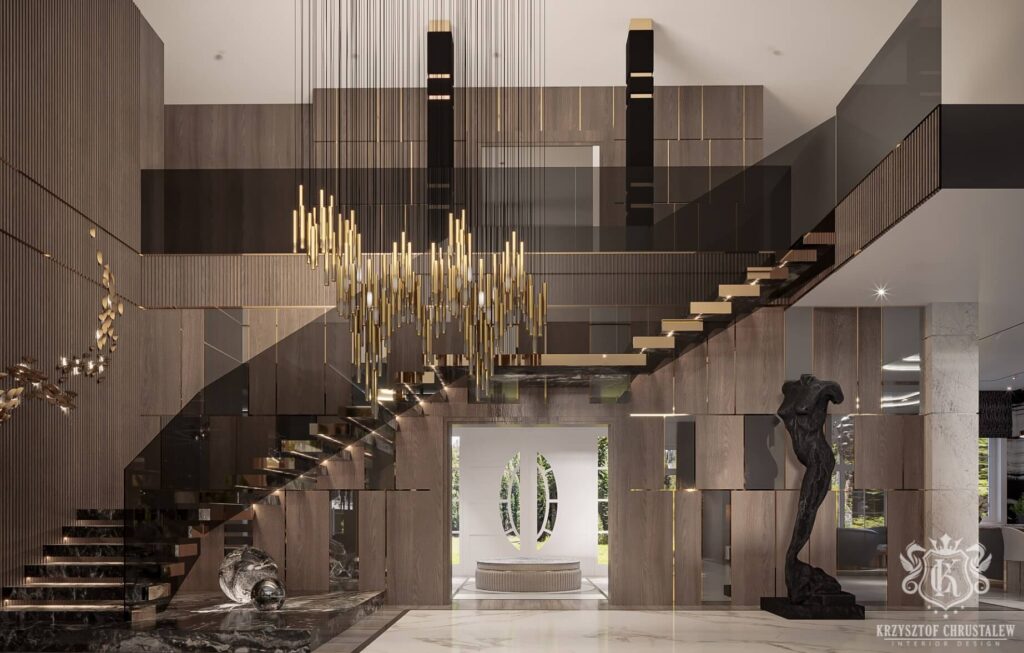 There are no interiors that we could not undertake, we are able to meet the most luxurious and demanding interiors. Below we present a few sample projects, a few selected styles and spaces from our production.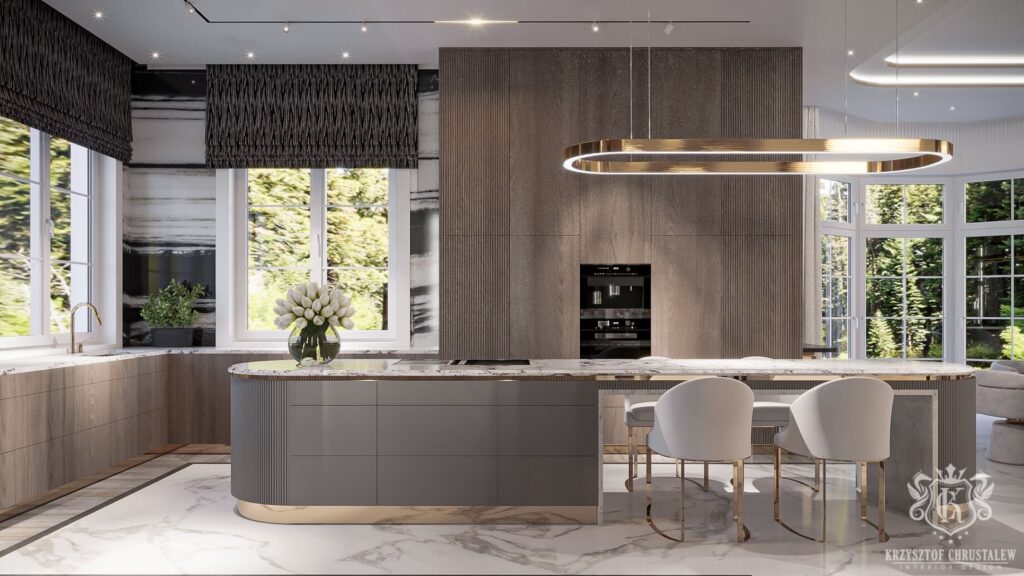 Our projects are characterized by the use of noble materials such as granite, marble, quartz, travertine, and beautifully illuminated onyx.
The projects are not lacking in brass accessories, custom-made lamps, chairs, quilted walls, as well as entire furniture installations such as kitchens, tables, dressers, classic offices, and modern fittings.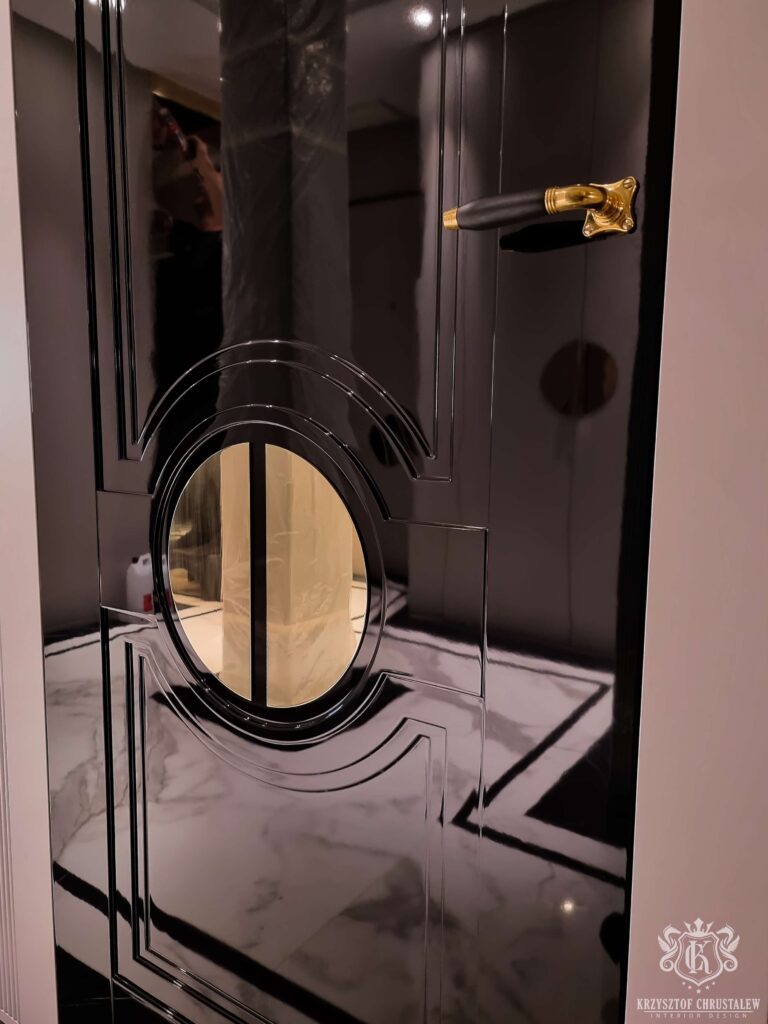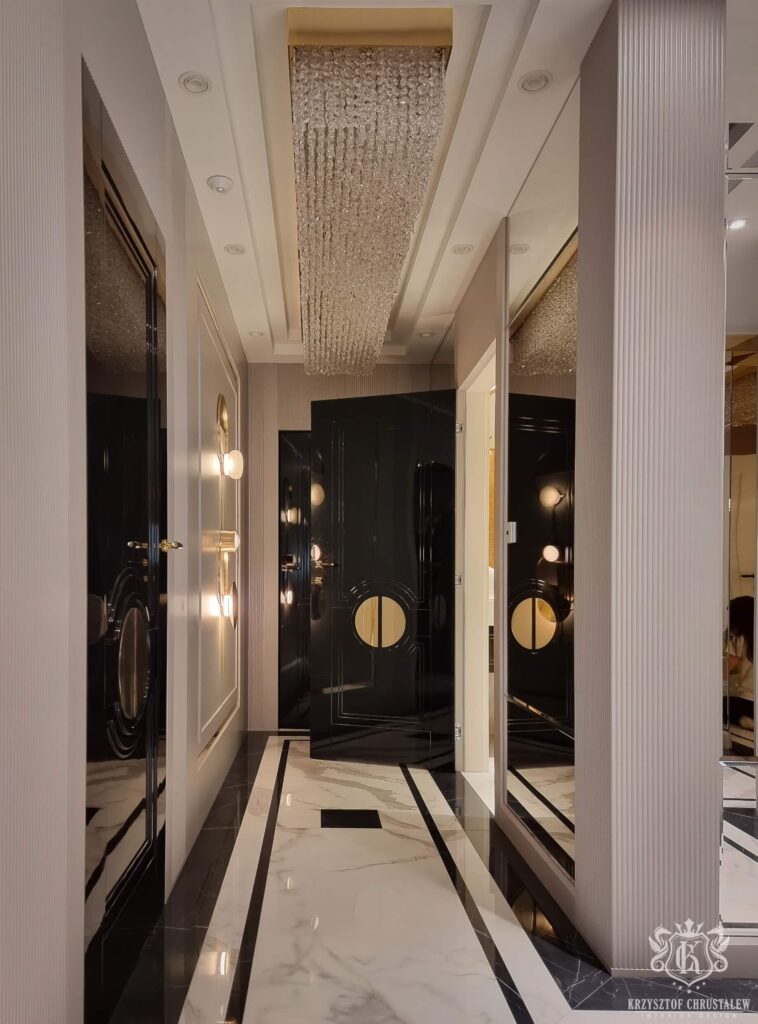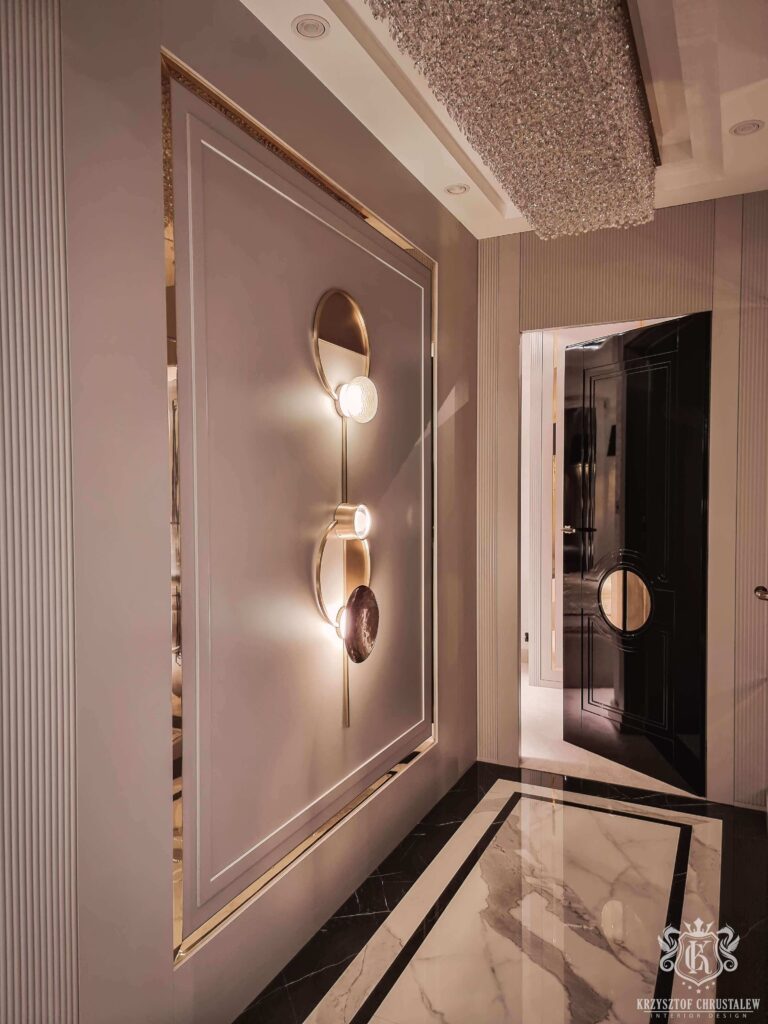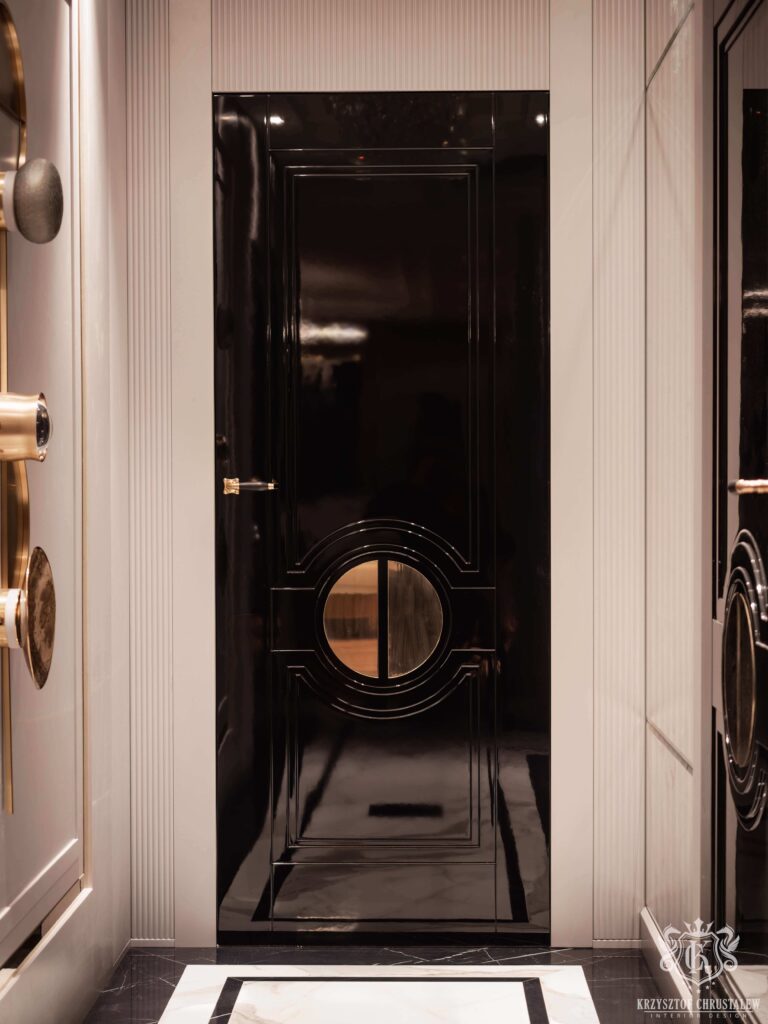 From the design to the final execution, you can hand us the keys, and we will take care of the realization of your apartment, house, or residence from start to finish.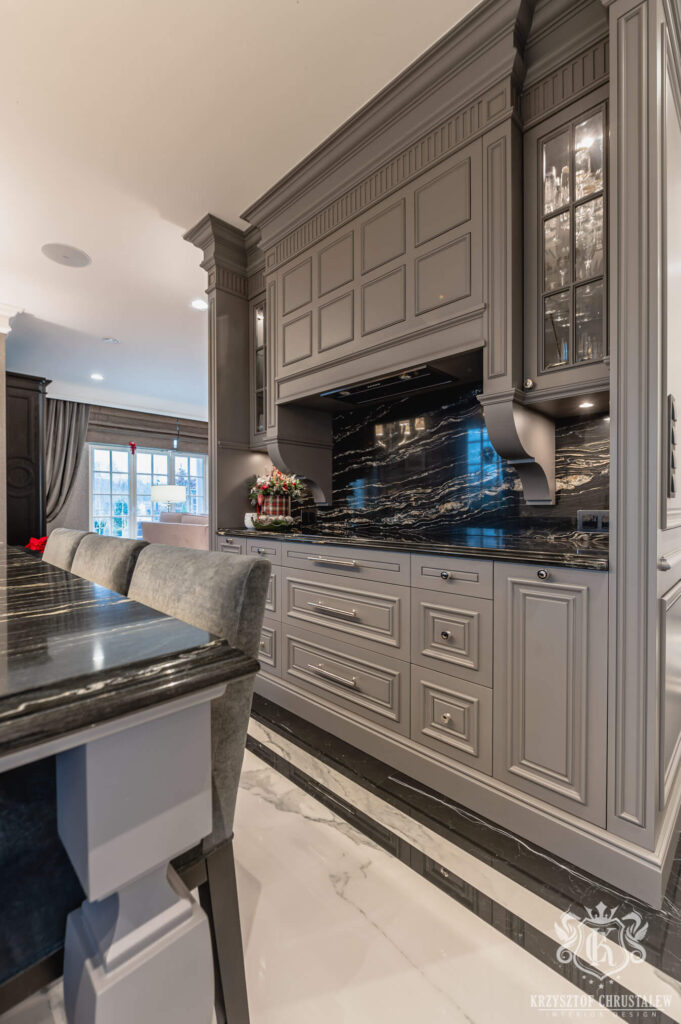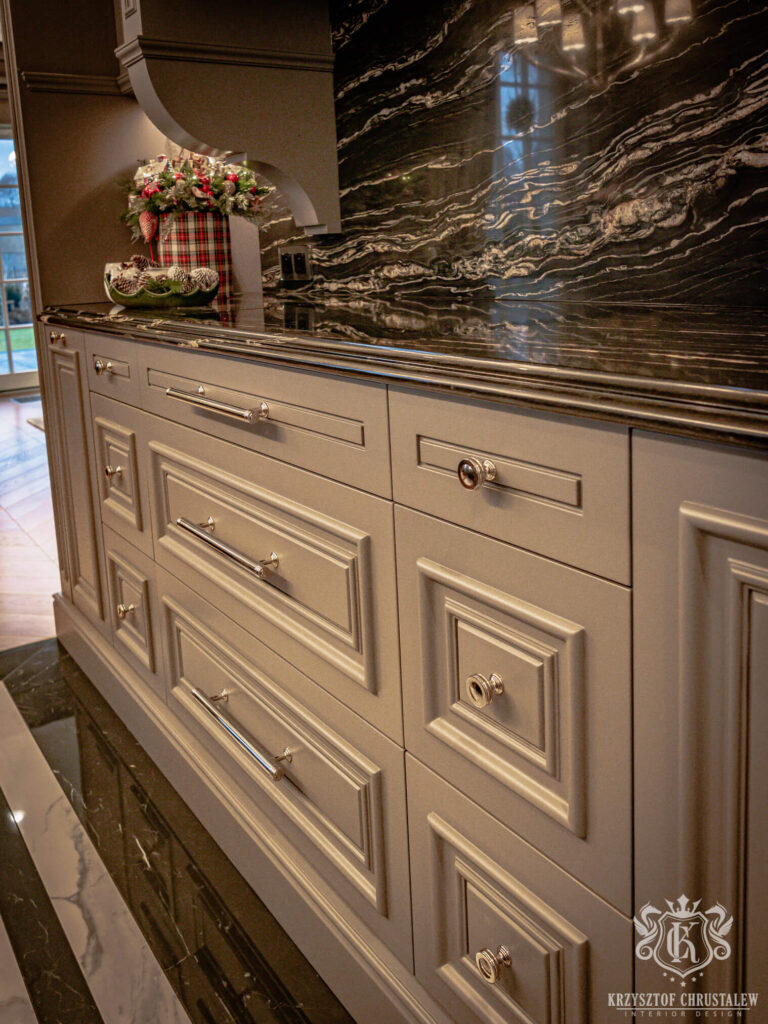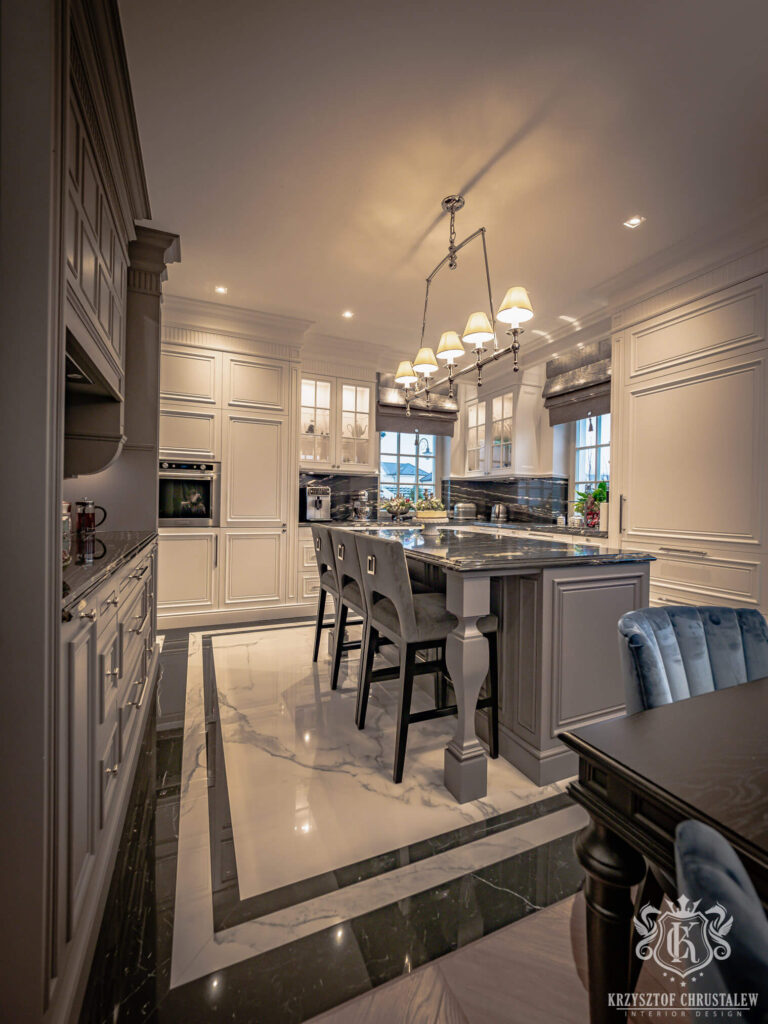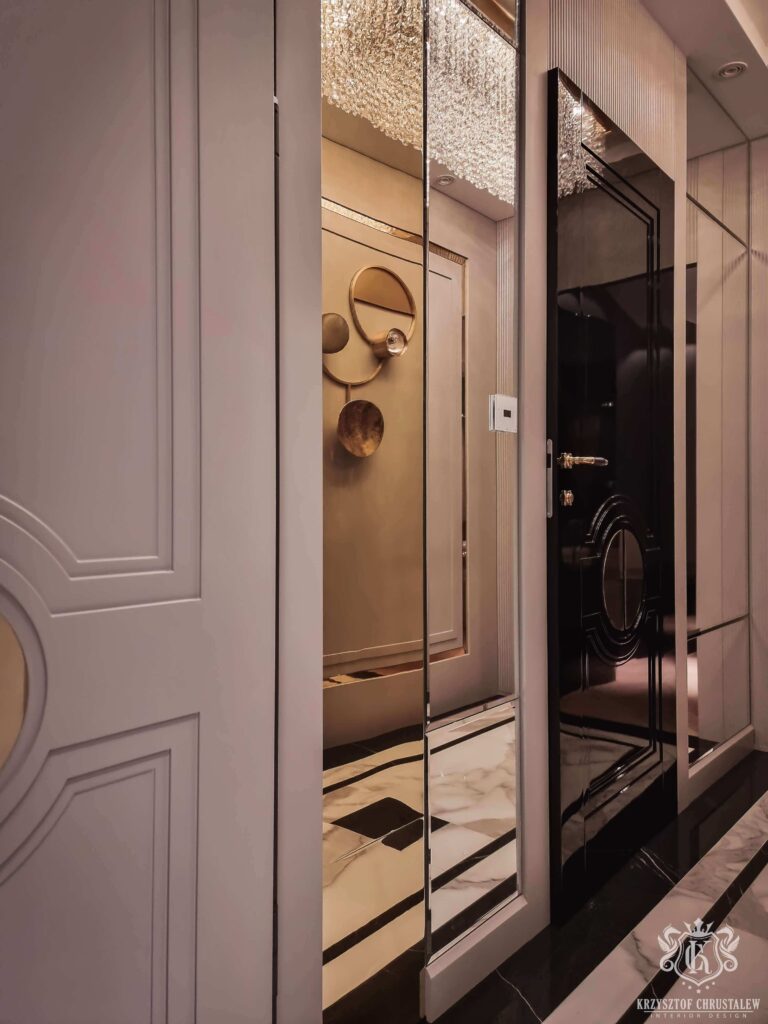 Complicated installations of classic office fittings and modern furniture installations, from design to execution, can be carried out by KC-Design. We can design all interior elements and produce them to order, replicating every detail of the project.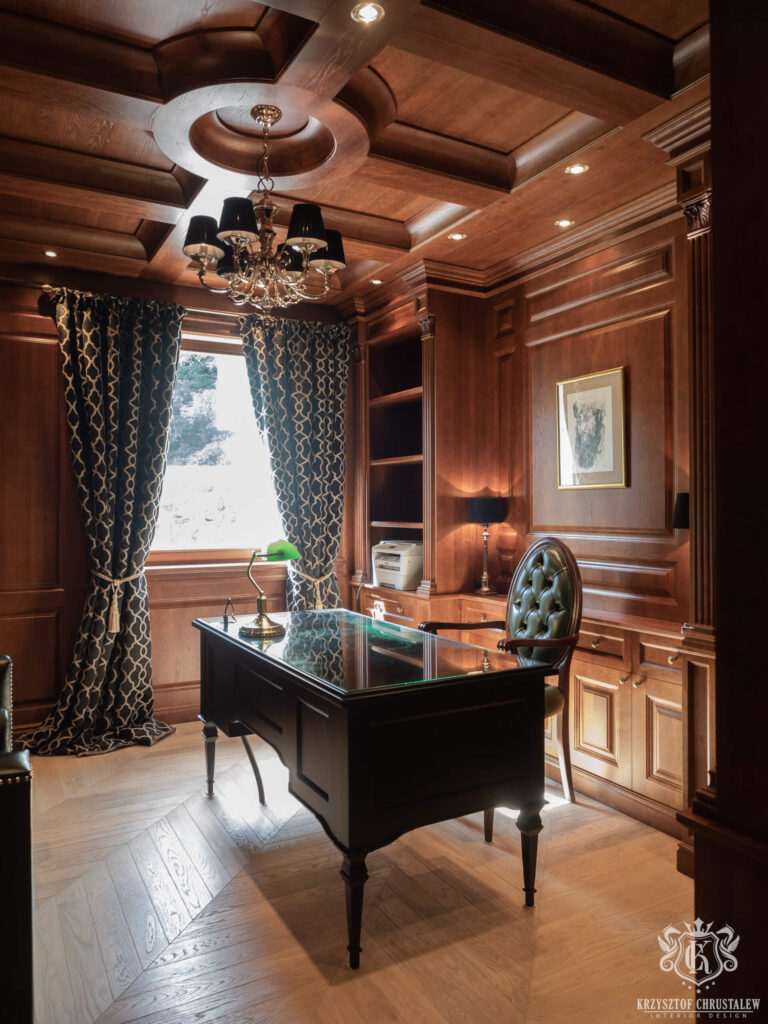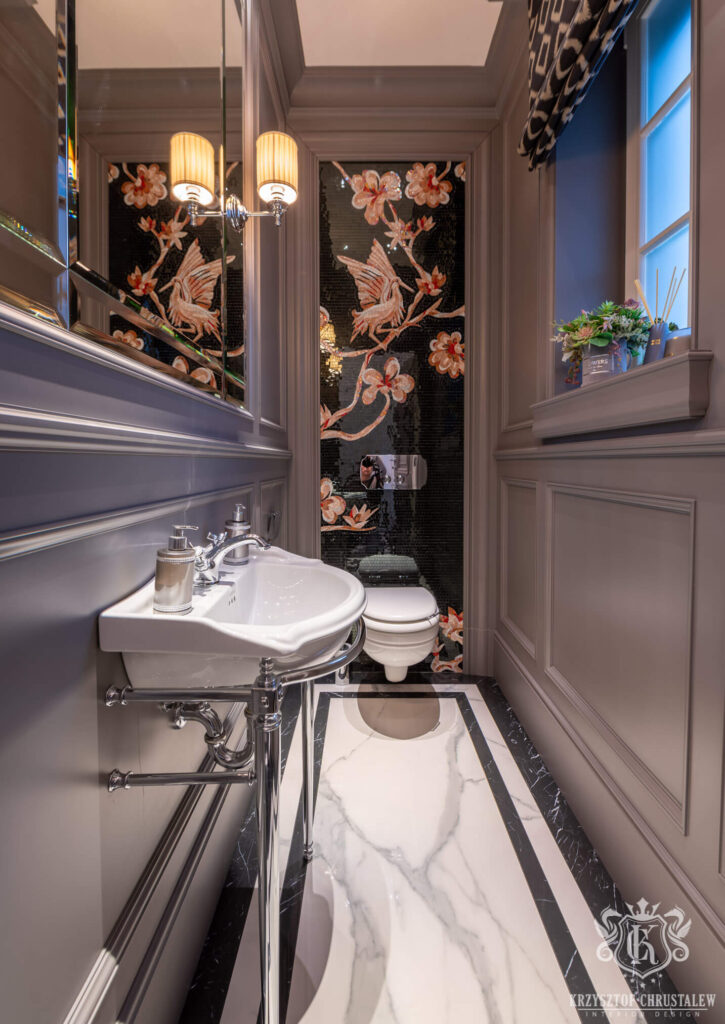 Our carpentry workshop produces custom-made furniture according to the project, which are often unique pieces in the world and one-of-a-kind.
We create furniture with the utmost care, in high-gloss finish, bent and veneered, as well as with the addition of precious metals, mosaics, and natural stones.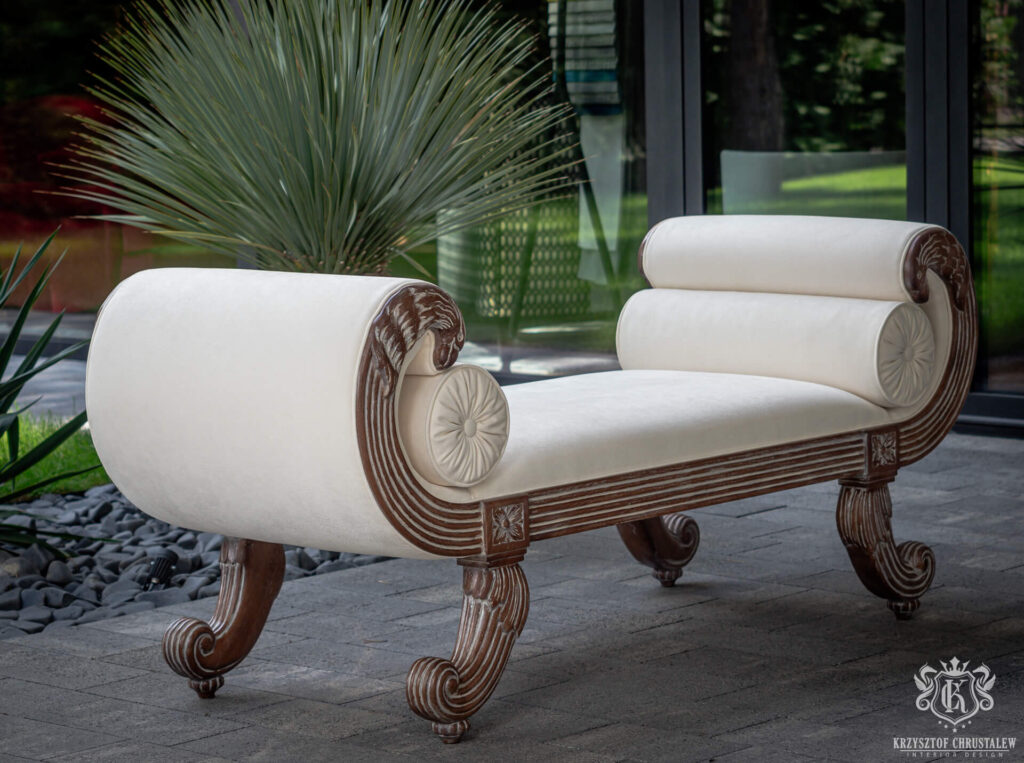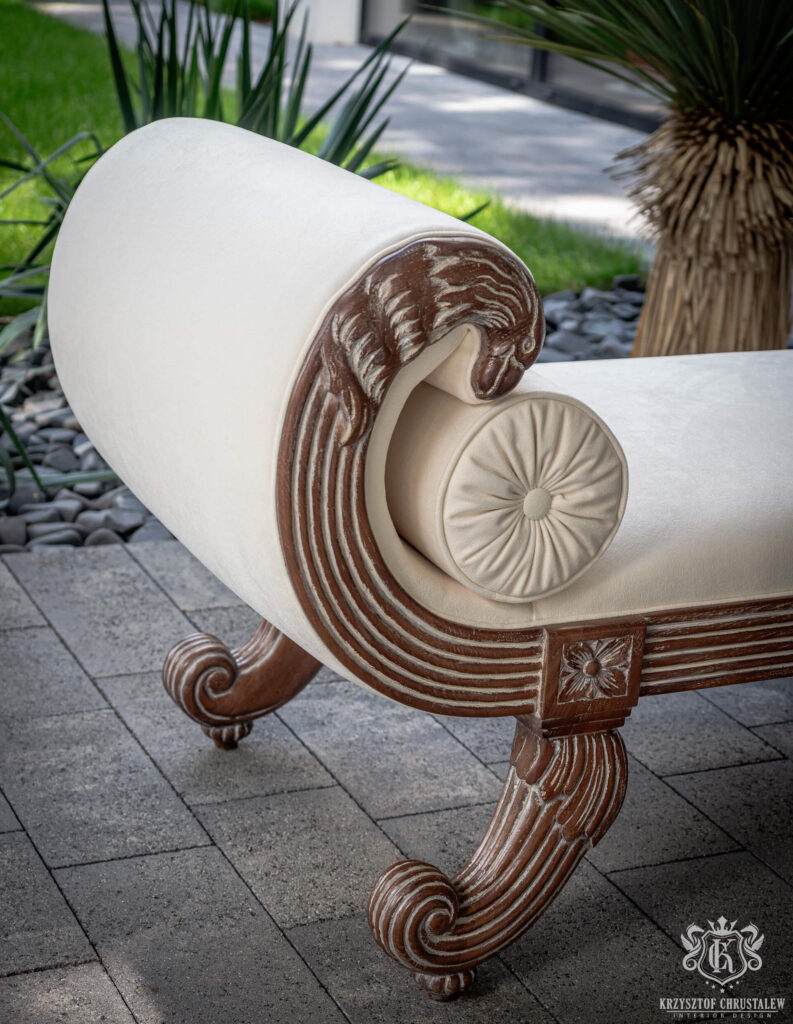 Our upholstery workshop takes on the most difficult projects, where sculptors and artists are involved in the finishing process.
We create upholstered furniture, patinated and hand-carved, which will be a luxurious addition to the most demanding apartments and residences.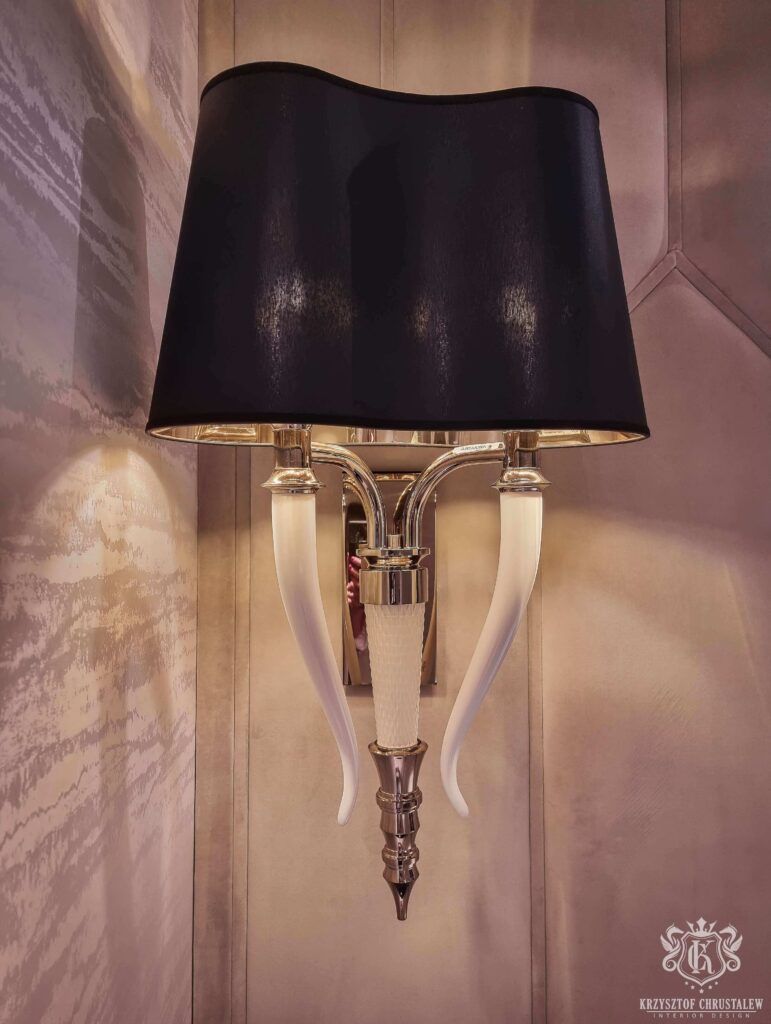 Interior lighting is our specialty, which is why we often use unique lamps to create the atmosphere of a given space.
That's why we like to use interesting and very original solutions.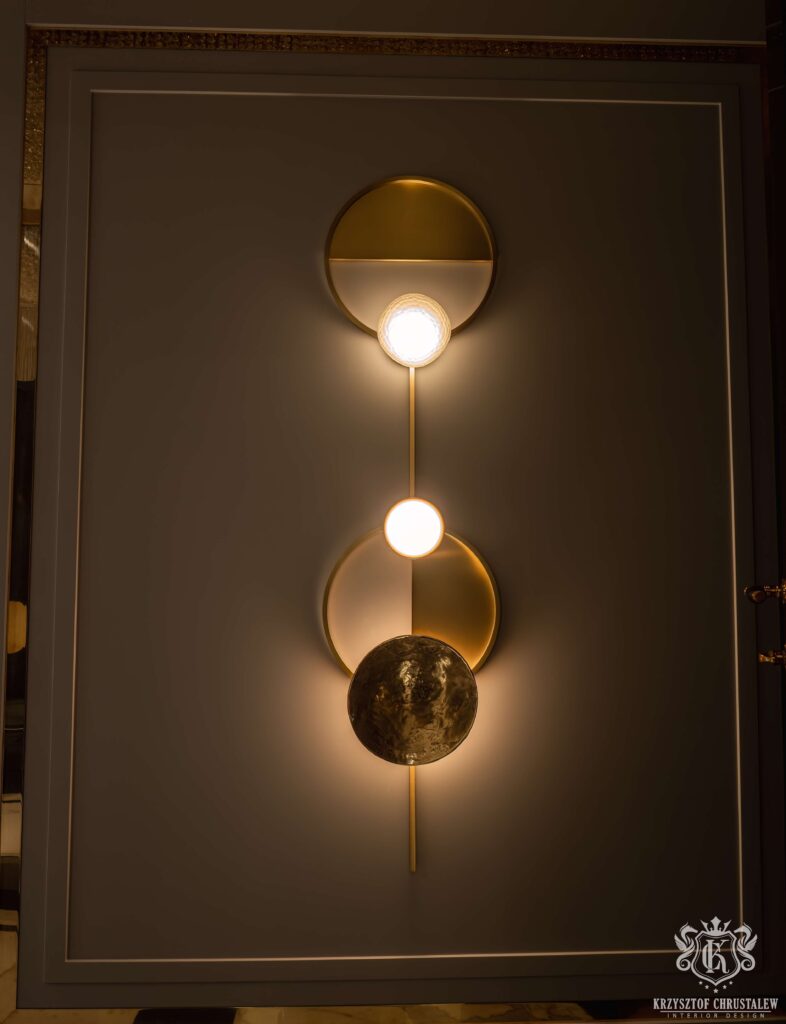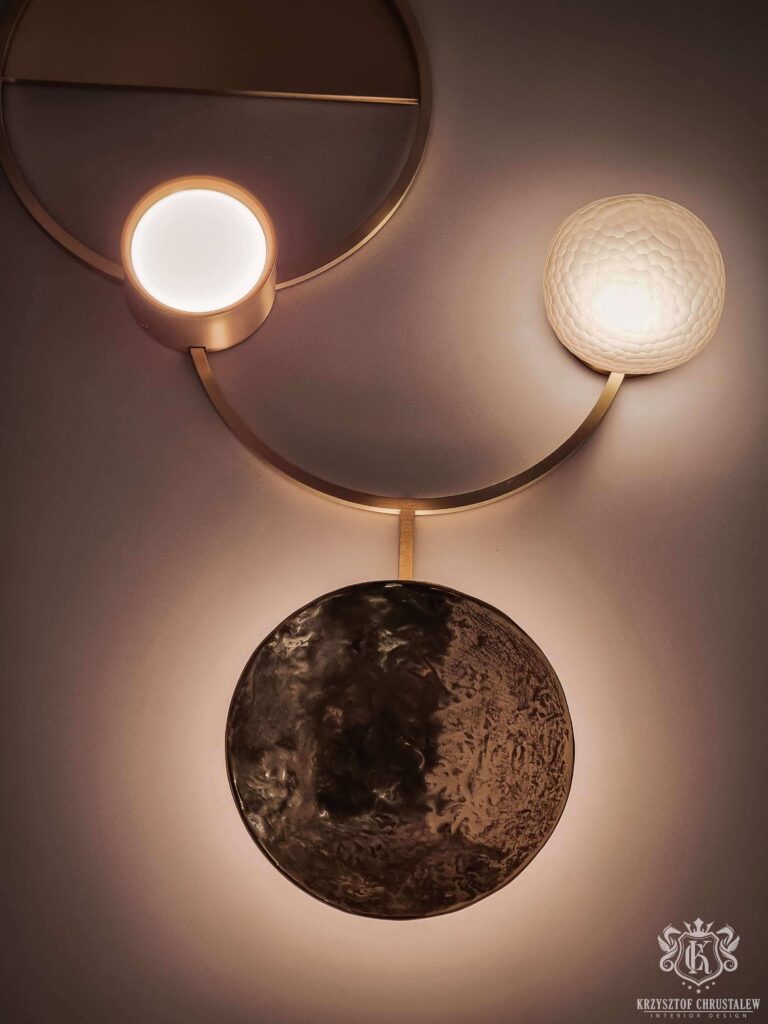 KC-Design projects are often implemented in our carpentry shop, where all furniture is created according to the design with precision to every millimeter…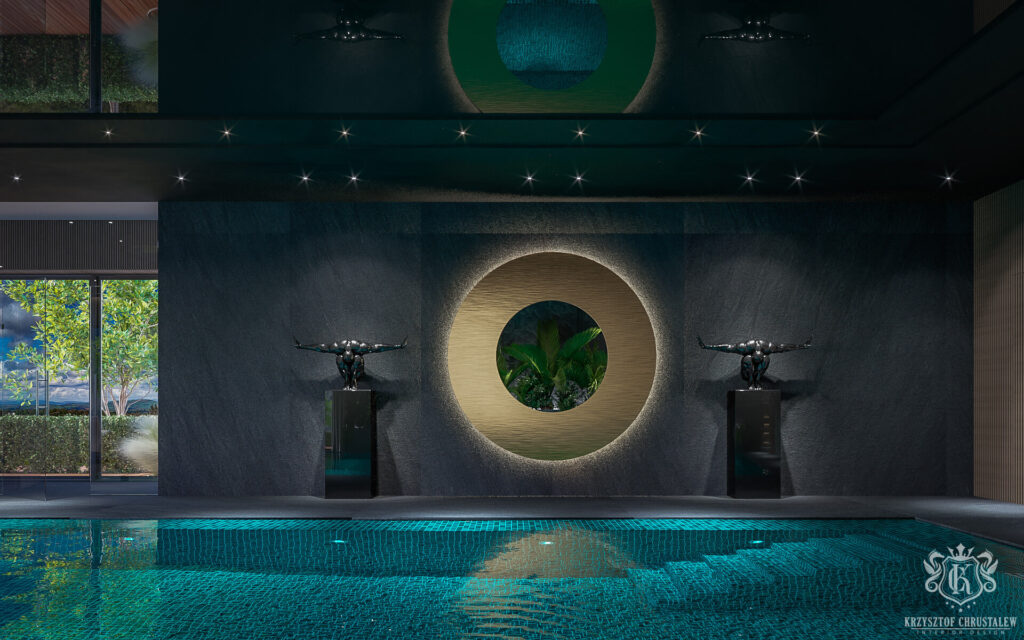 Our projects also include designs of swimming pools, wet and dry saunas, from the initial concept to the management of the entire execution.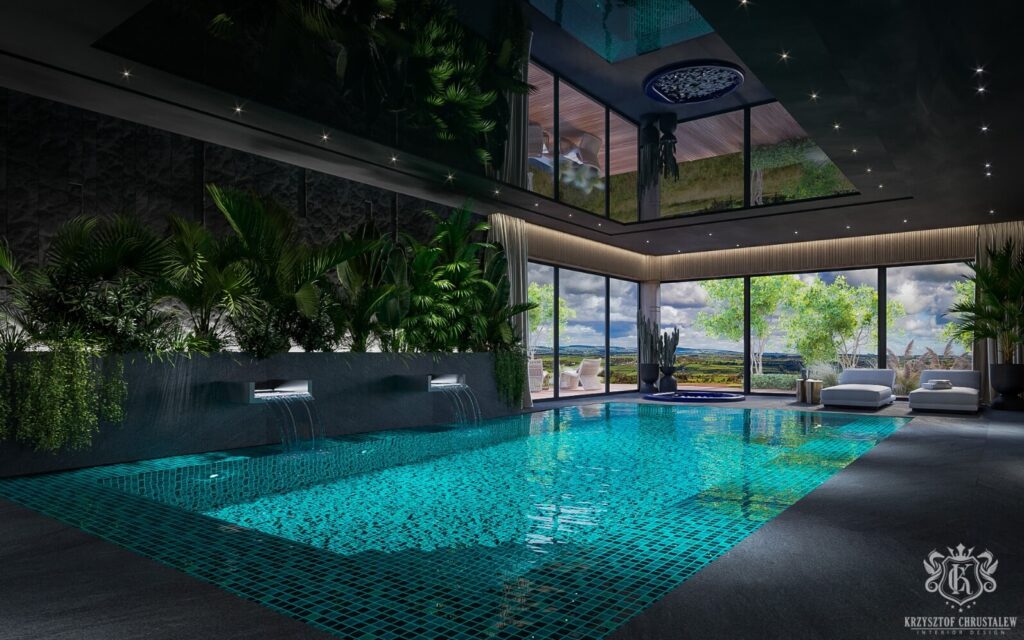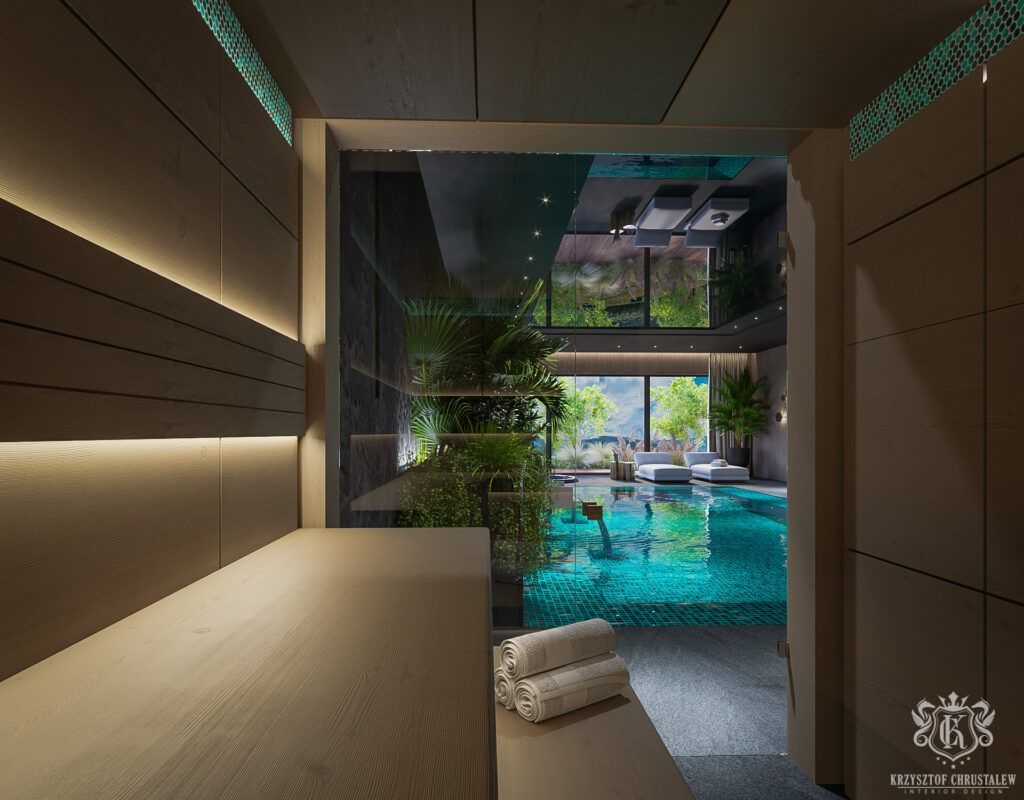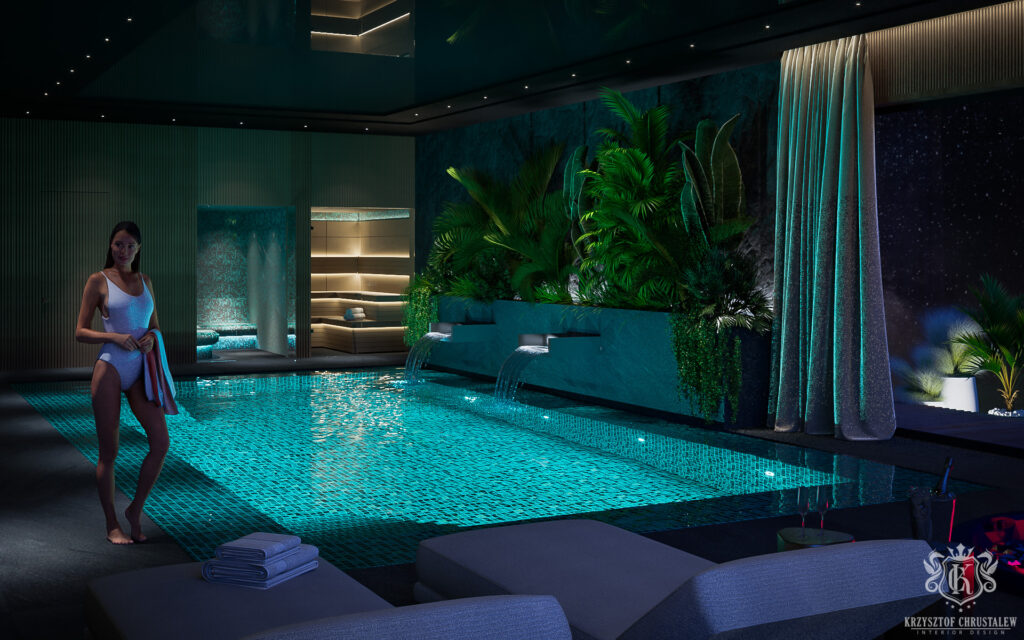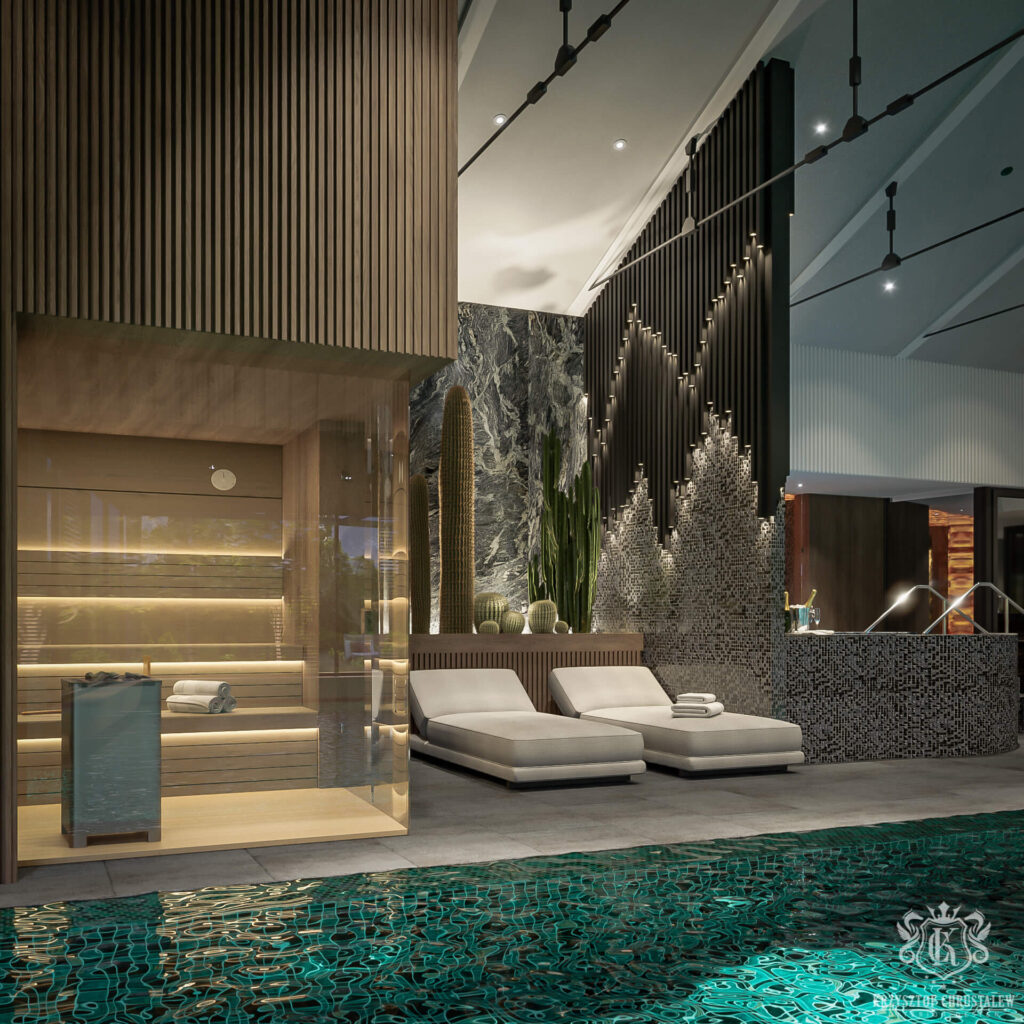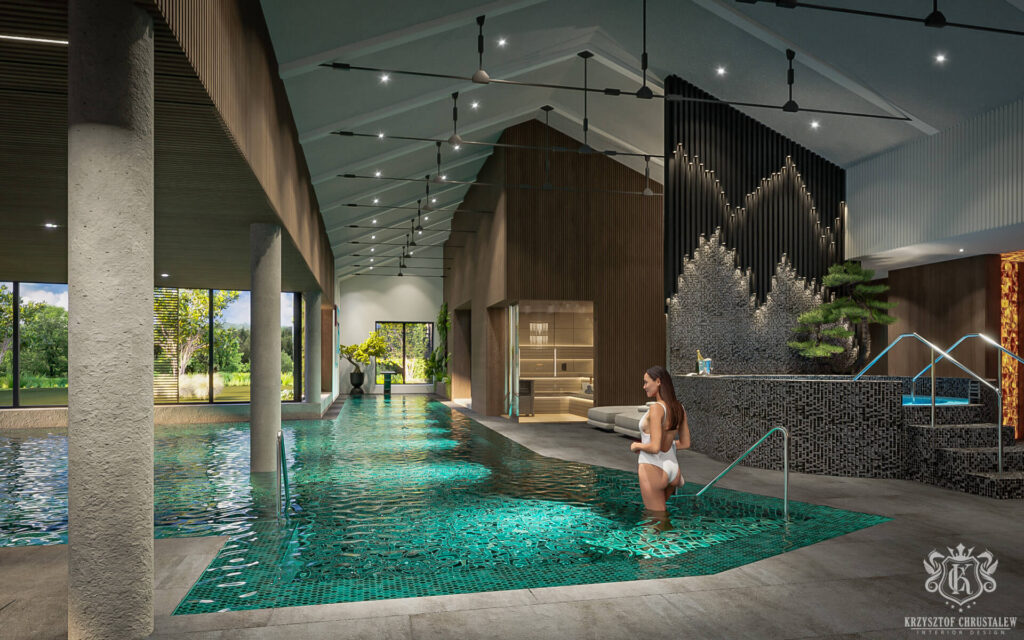 Very often, the selection of the appropriate color of the fittings or the shade of the chosen mosaic is the most important element that ties together a good harmonious design.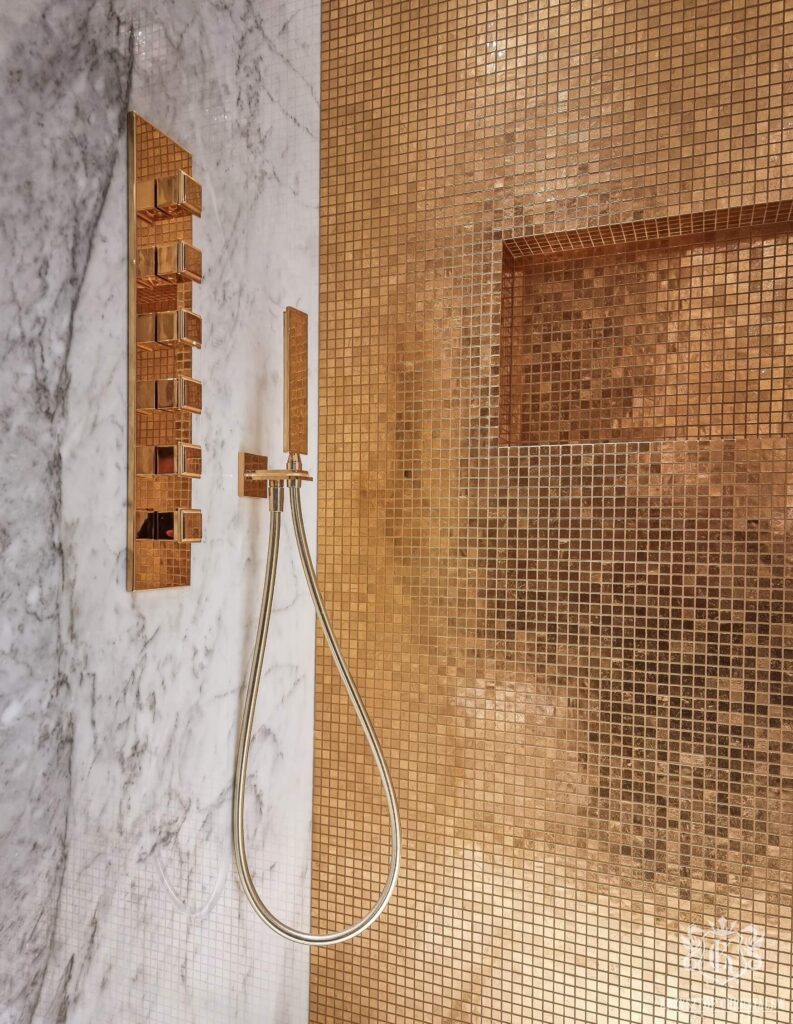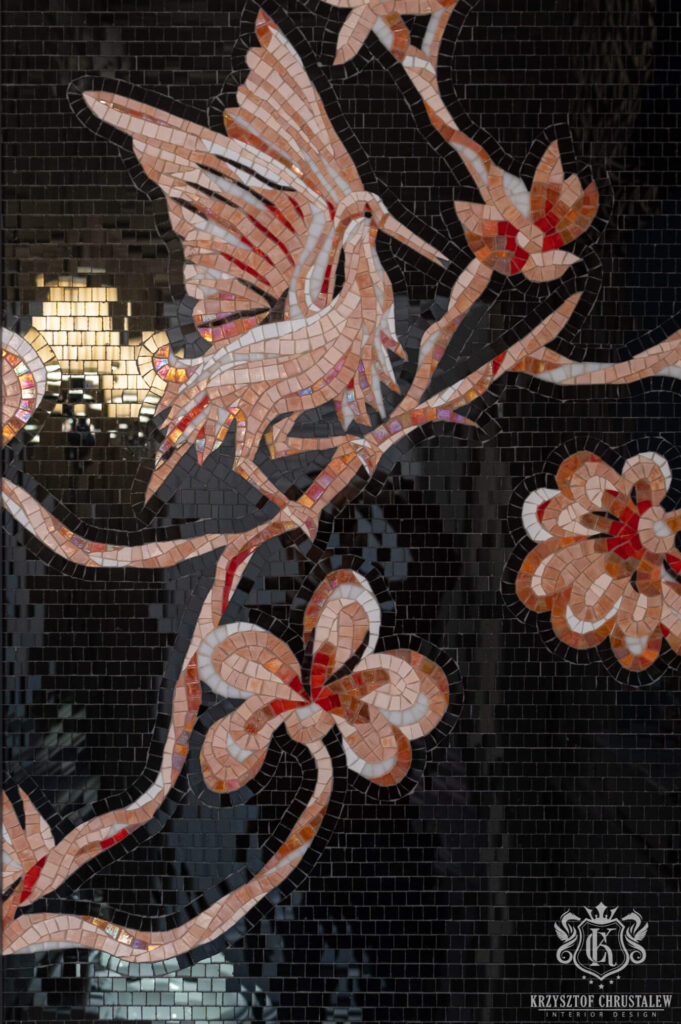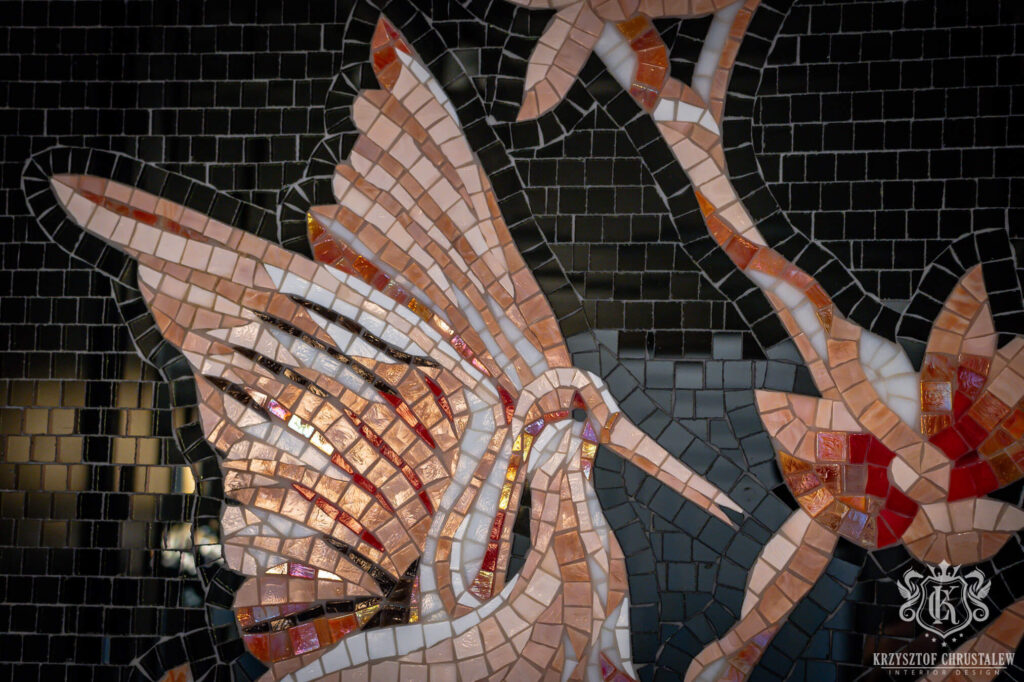 From modern to glamour and classic to modern classic combinations, we prepare our designs to meet the expectations of our clients.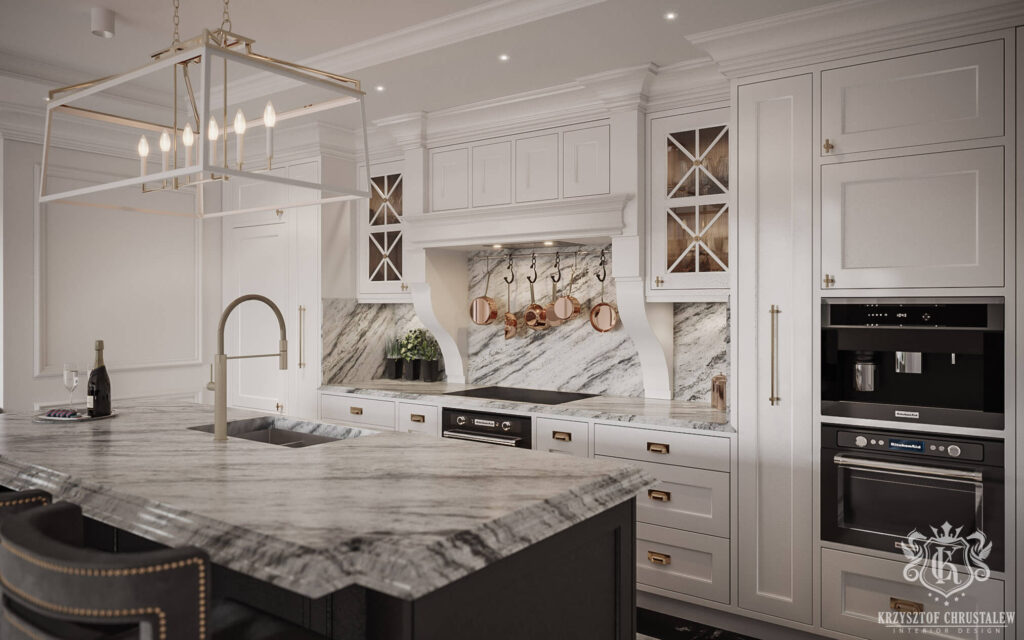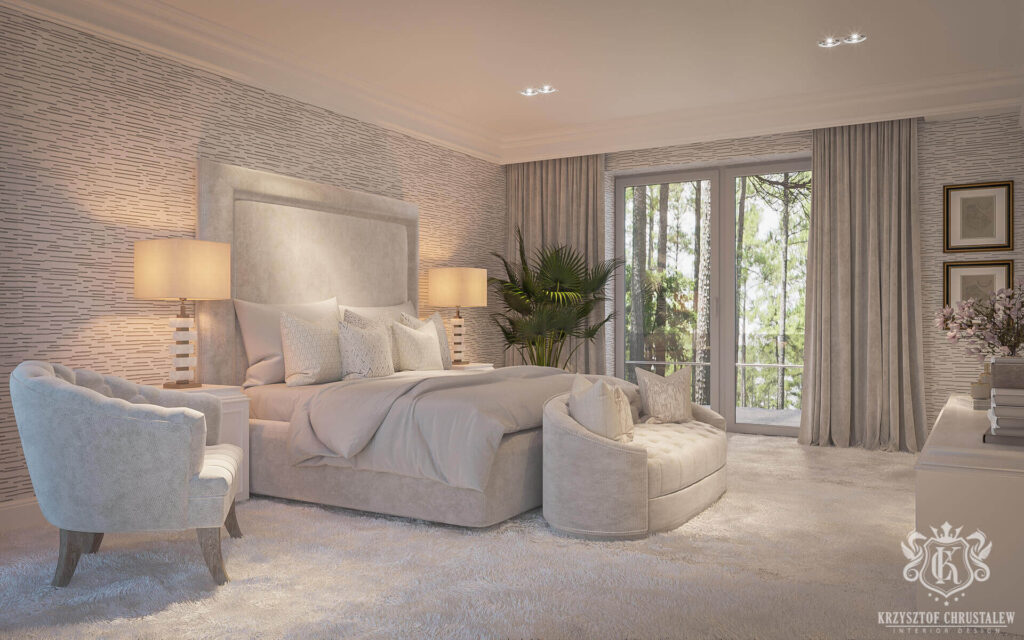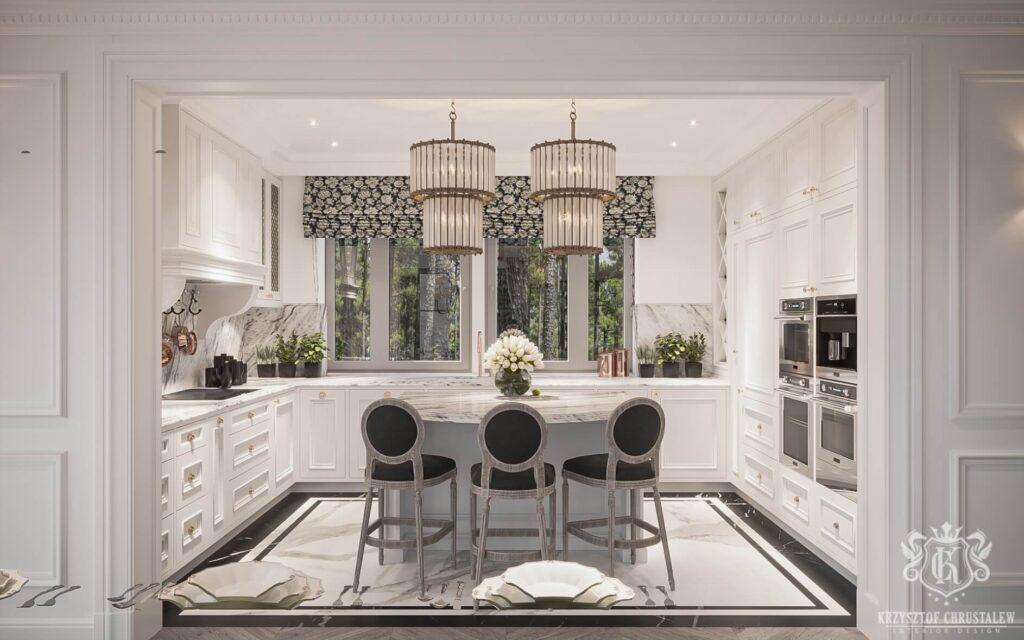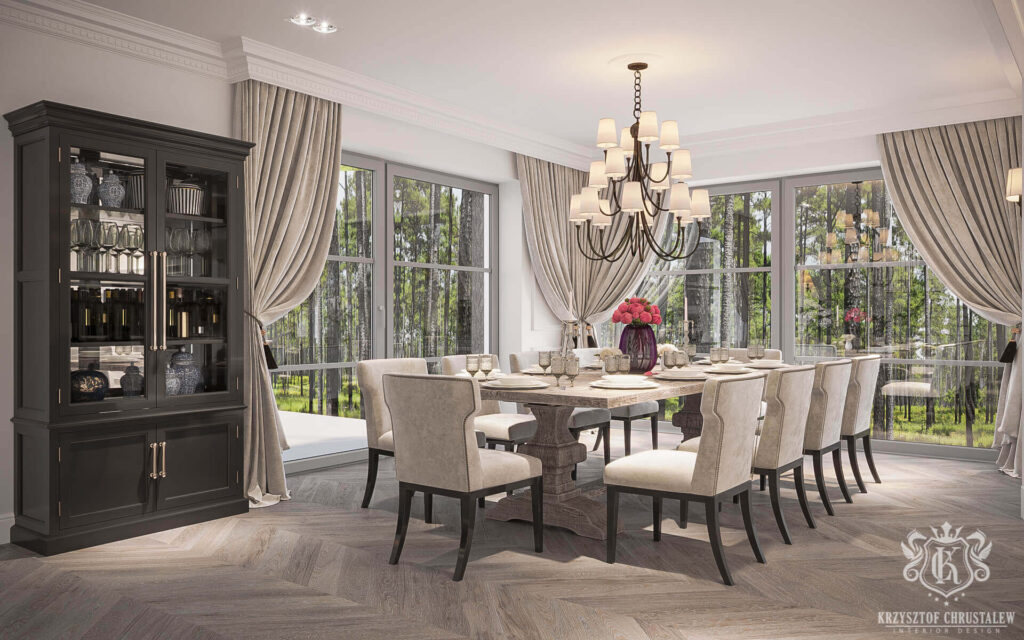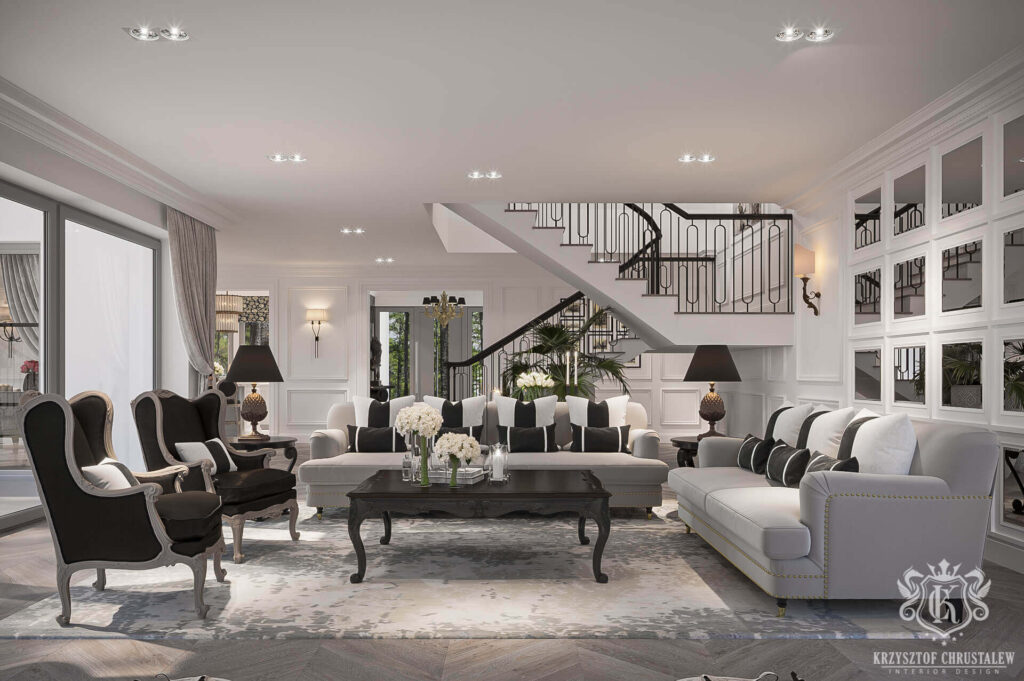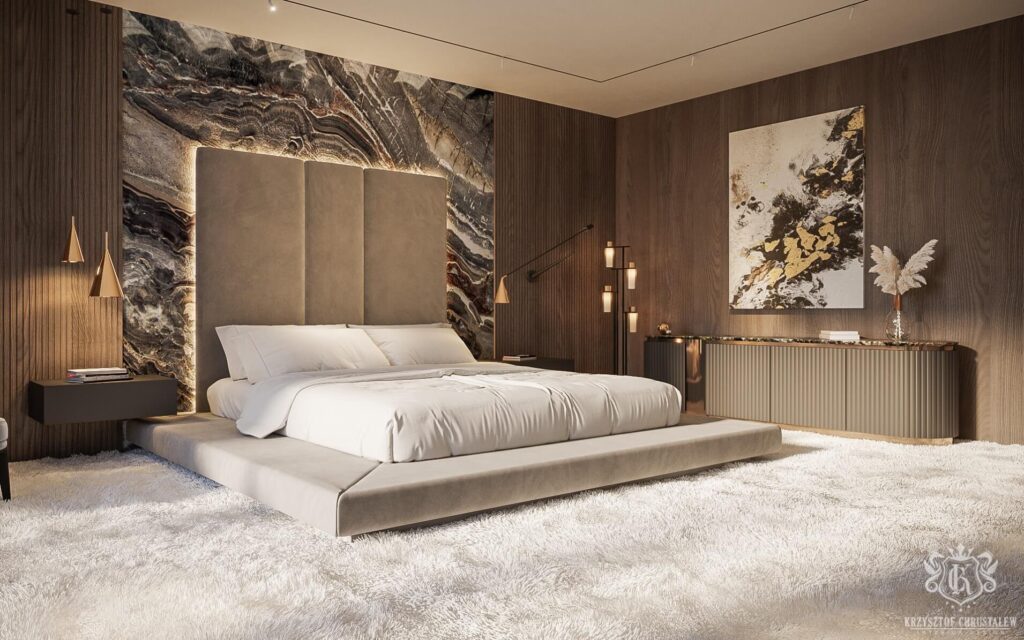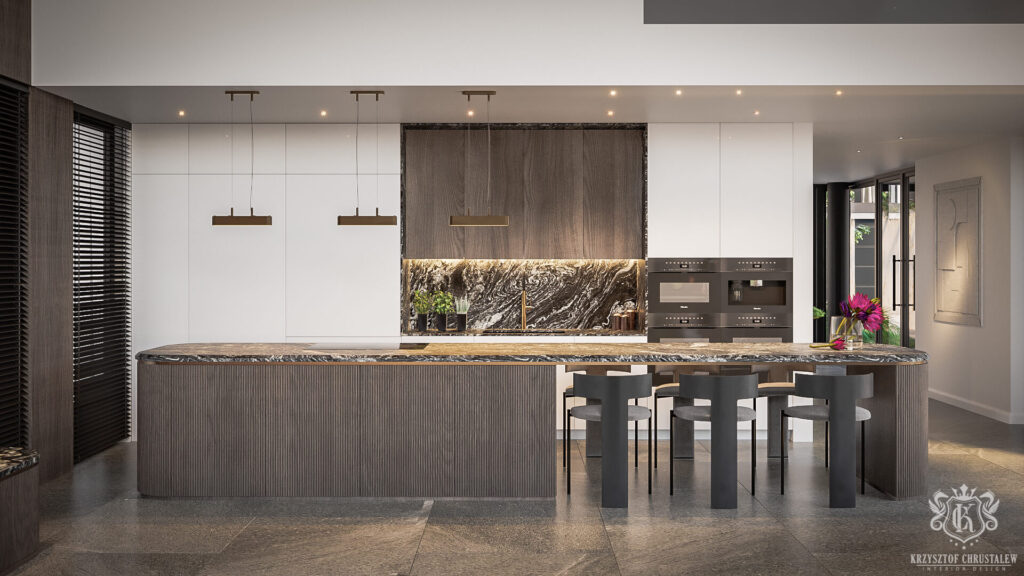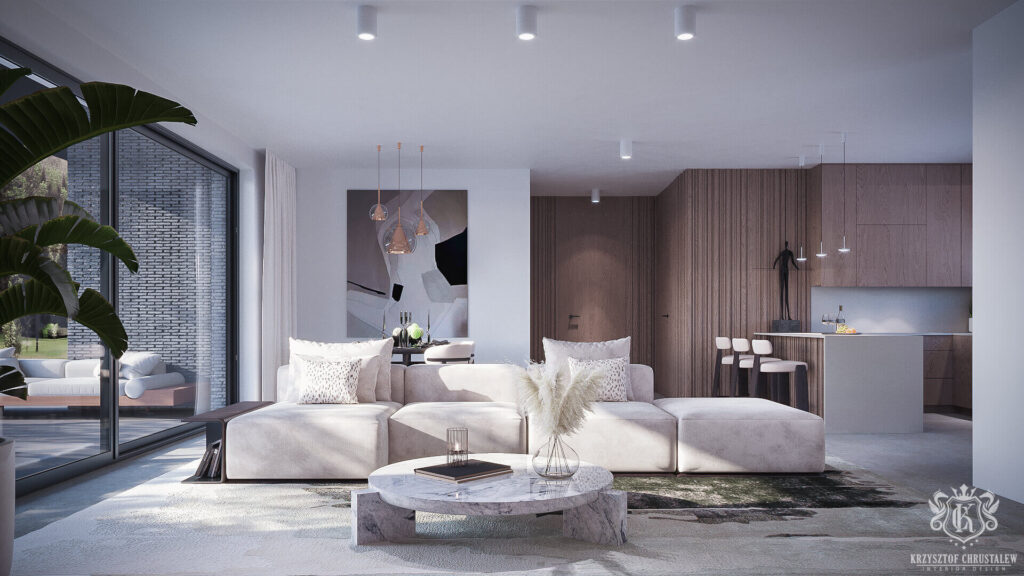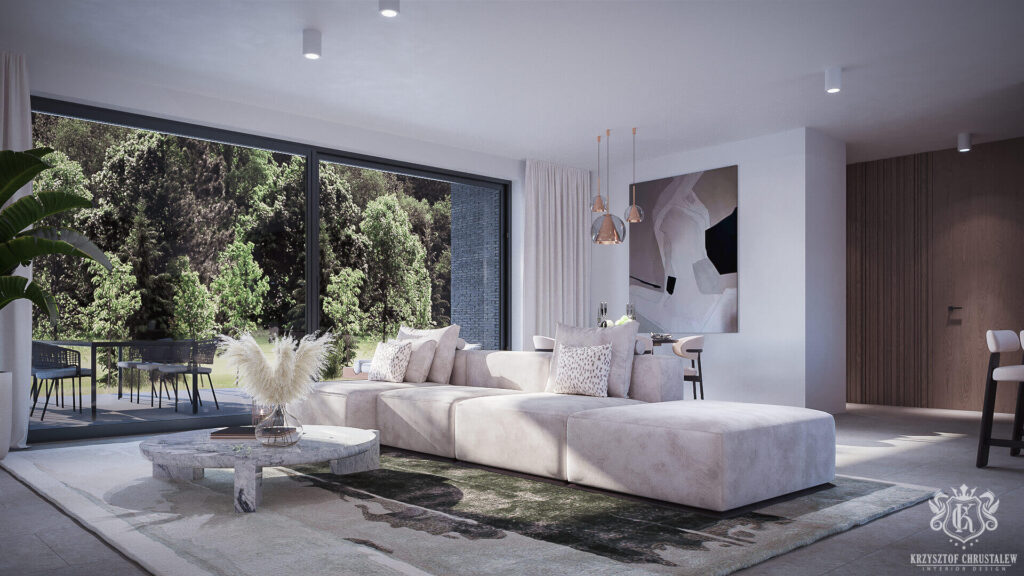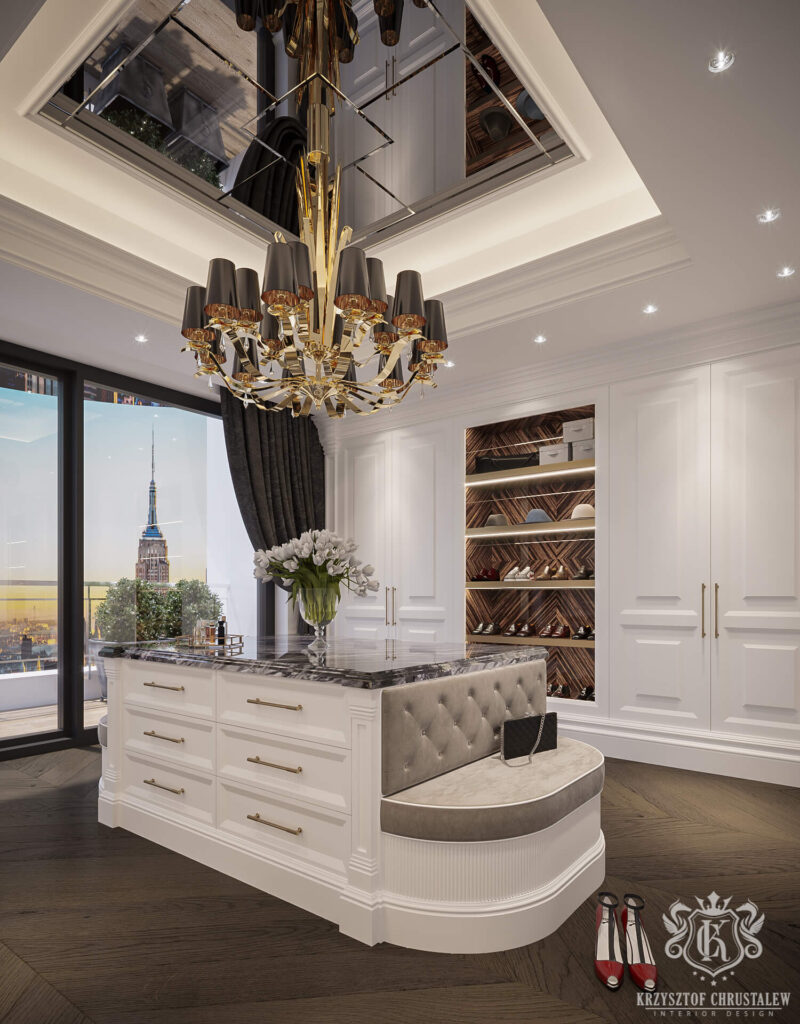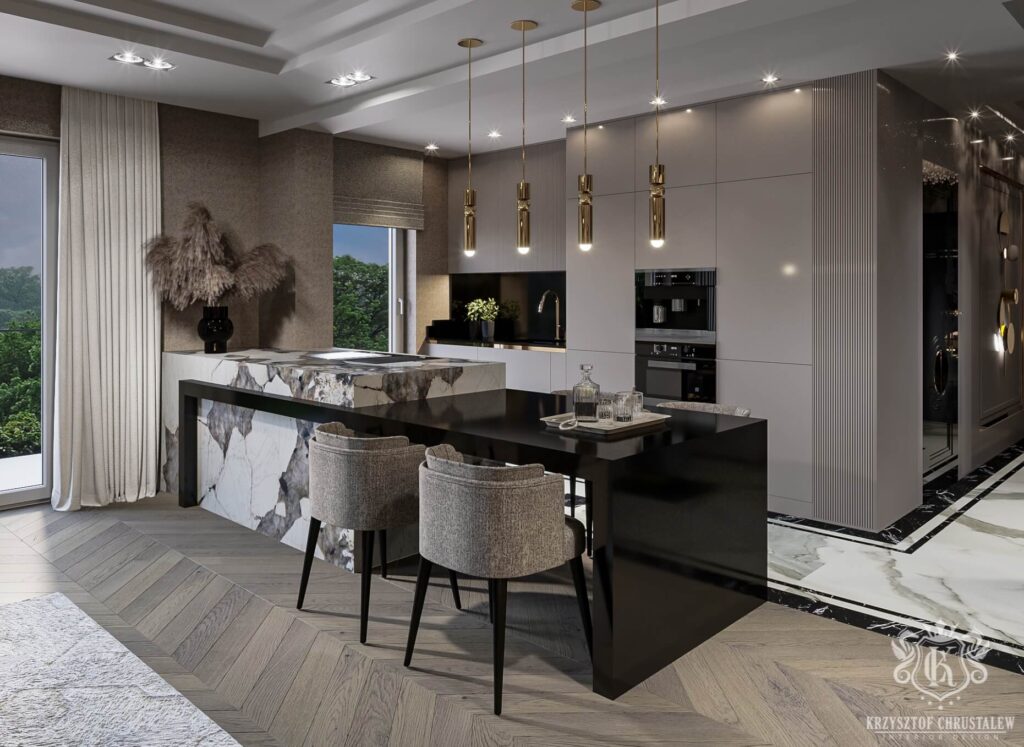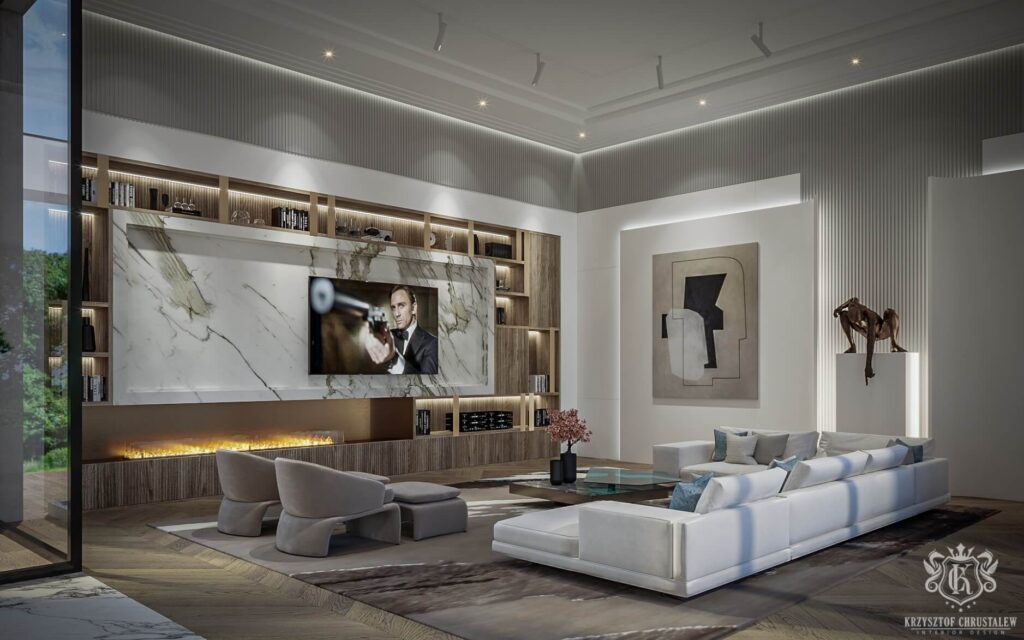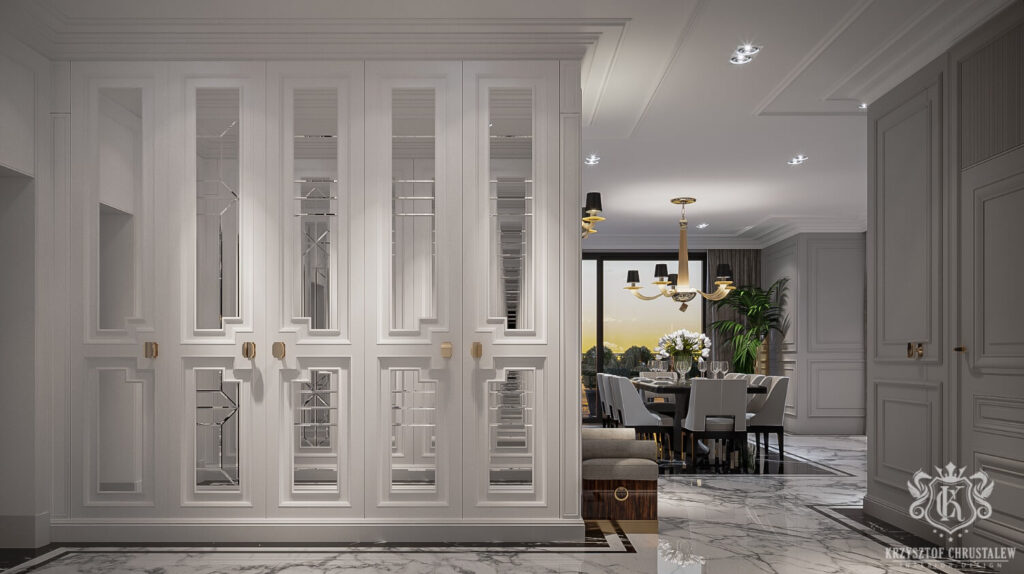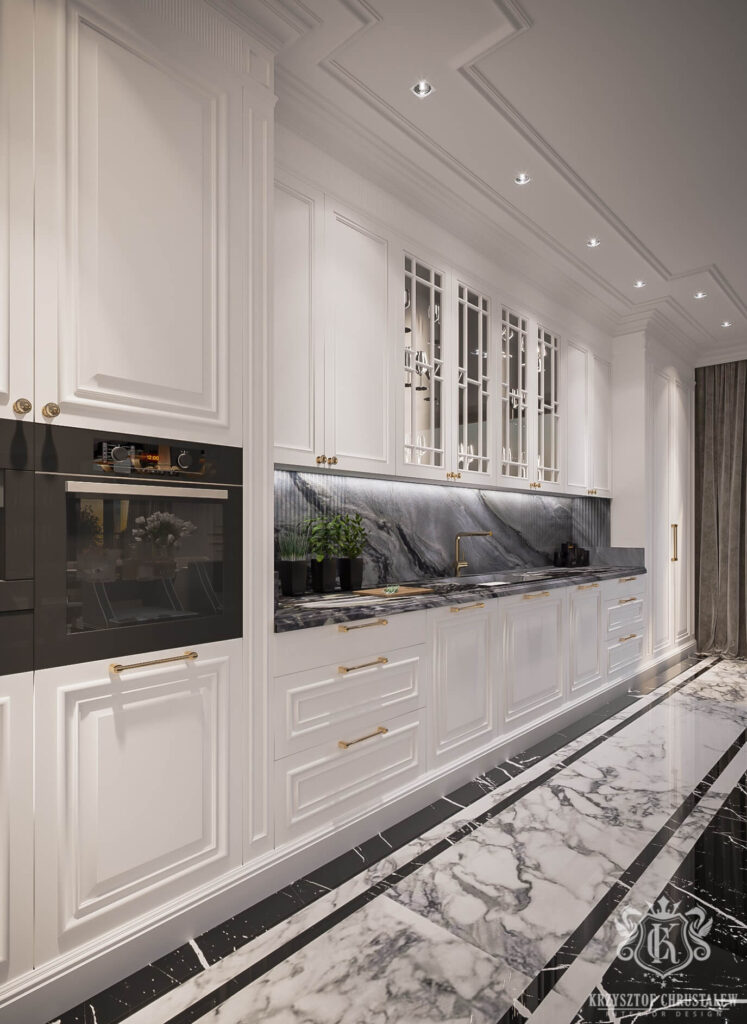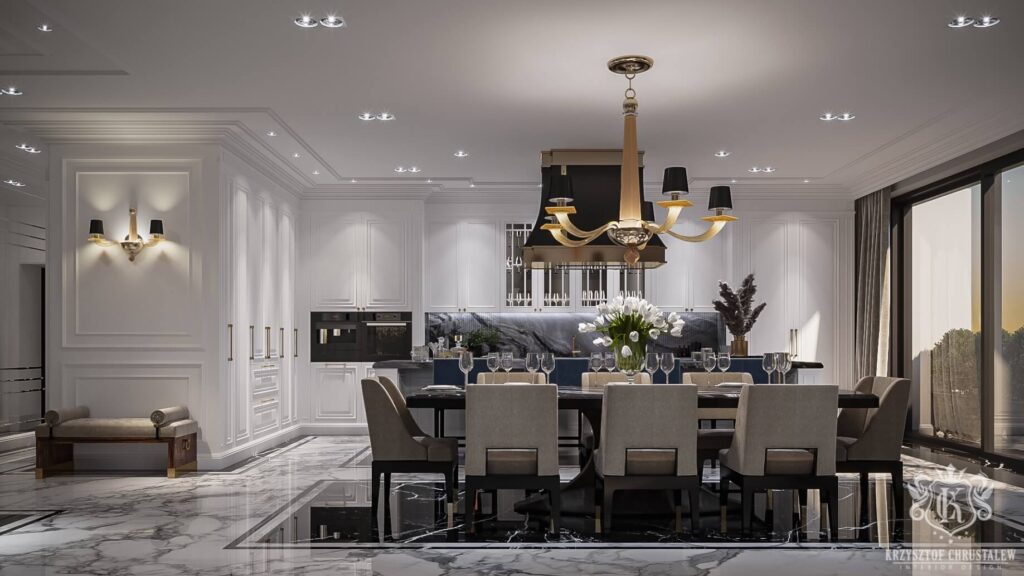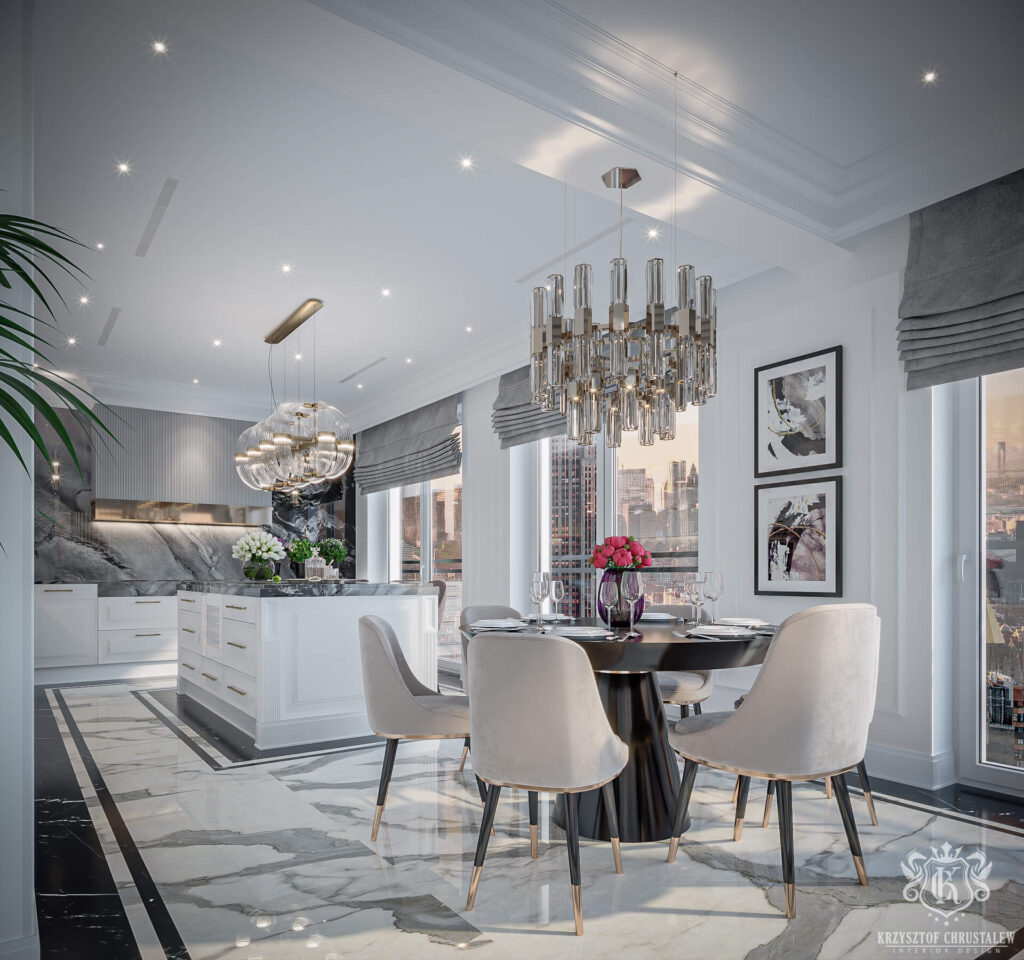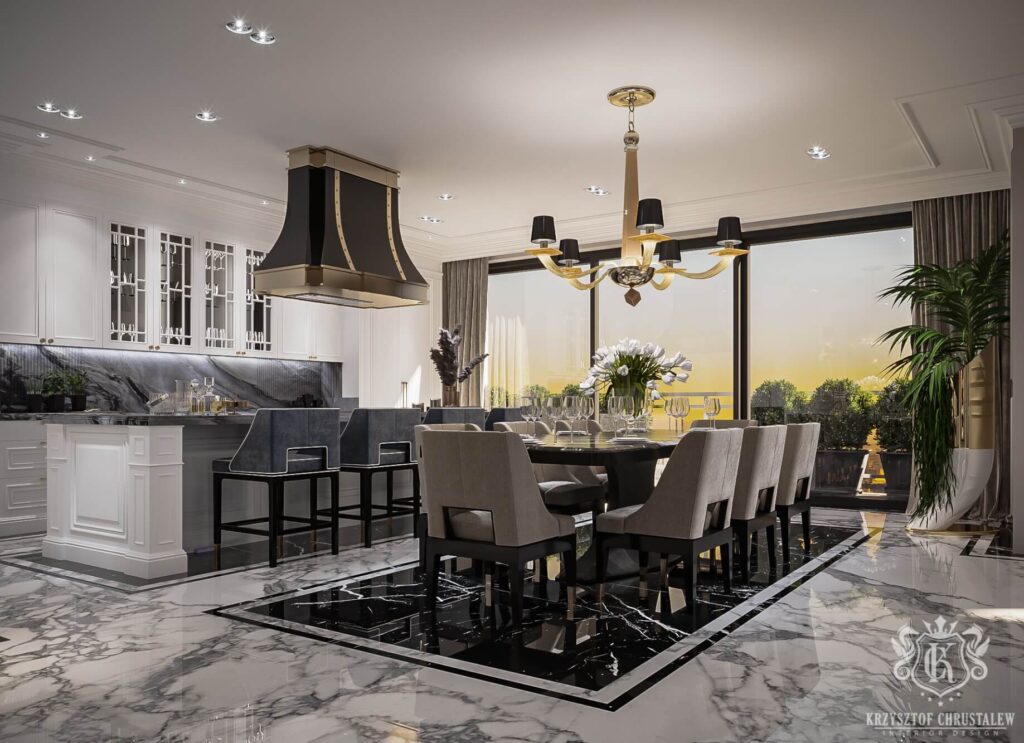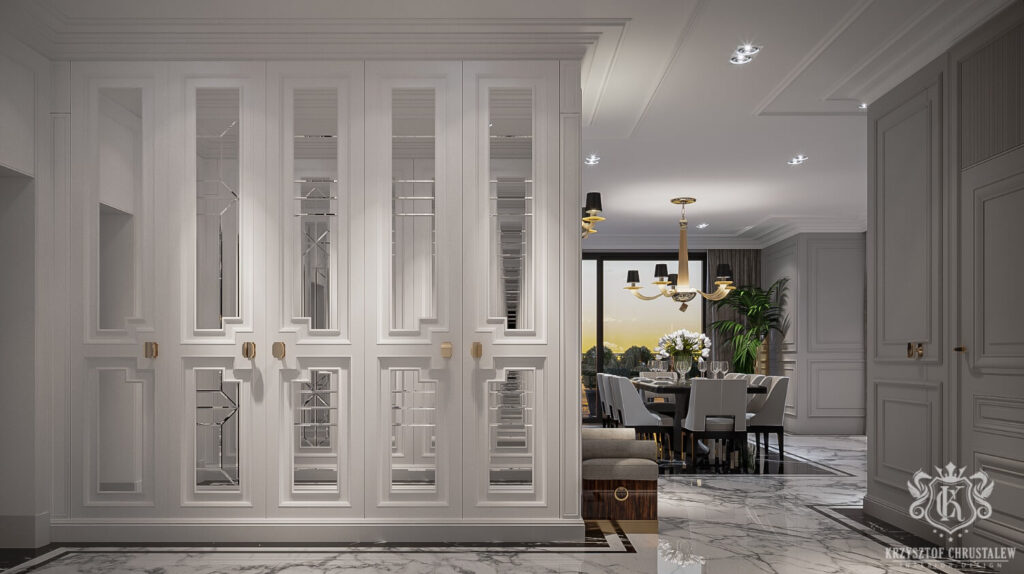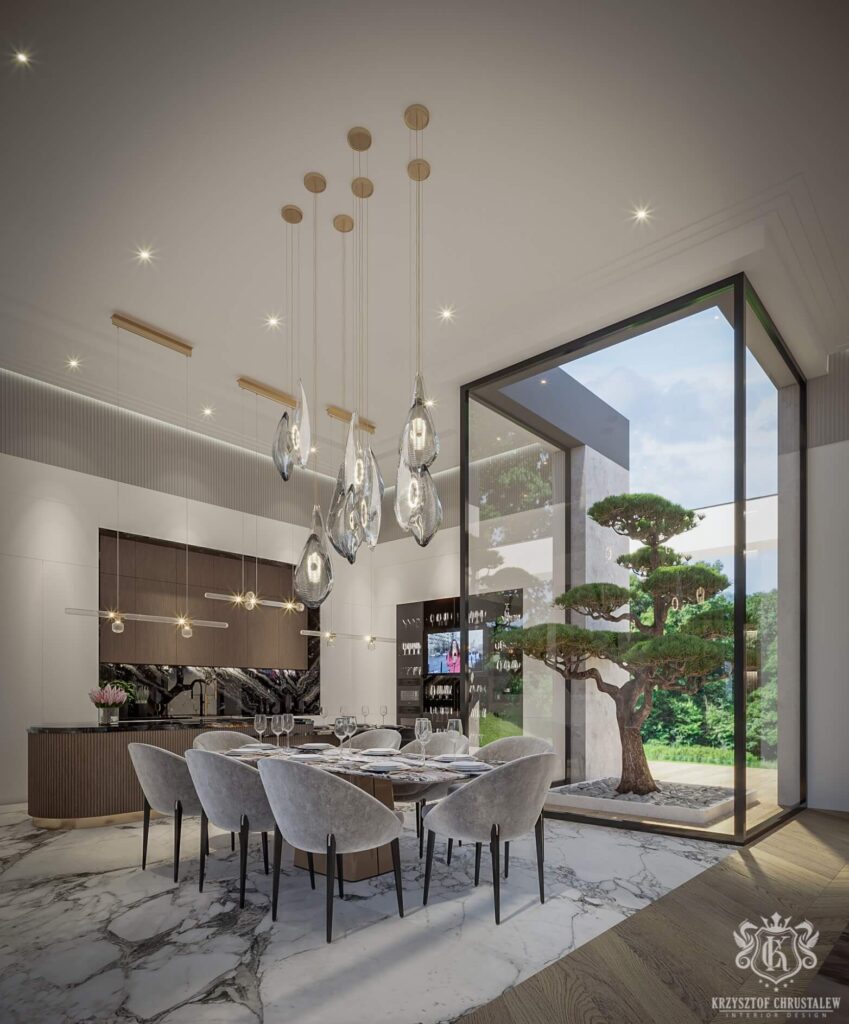 In our studio, we can match many types of finishes, fabrics, and samples of various materials to fit the atmosphere of the interiors and ultimately decide on the type of texture, color, shade, and structure as well as the type of materials used for the final finishing of the interiors.
By creating a kind of mood board, it is easier to determine the direction of detailing the rooms.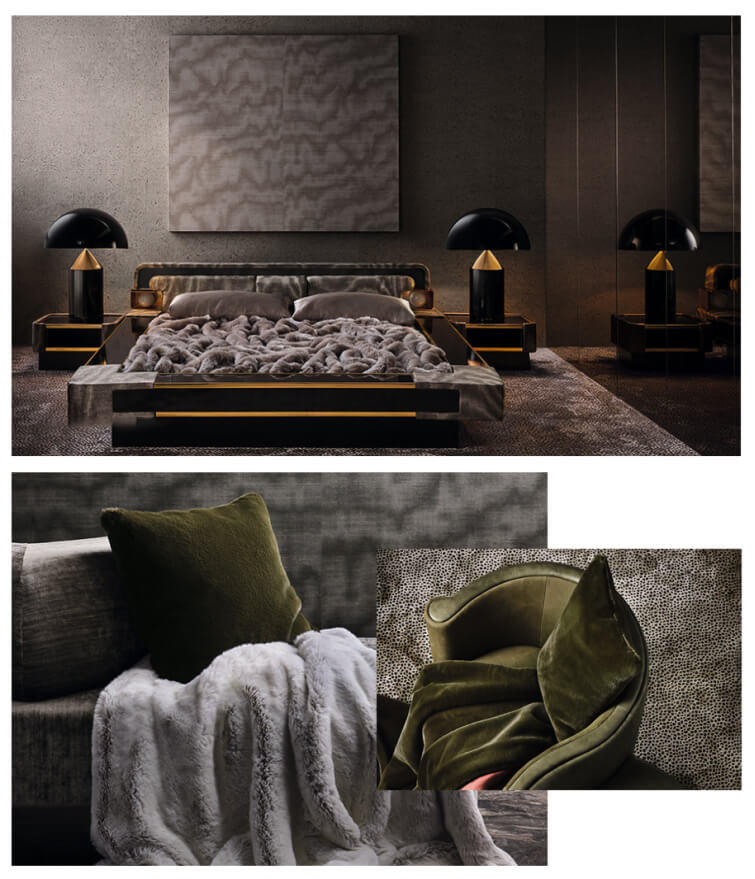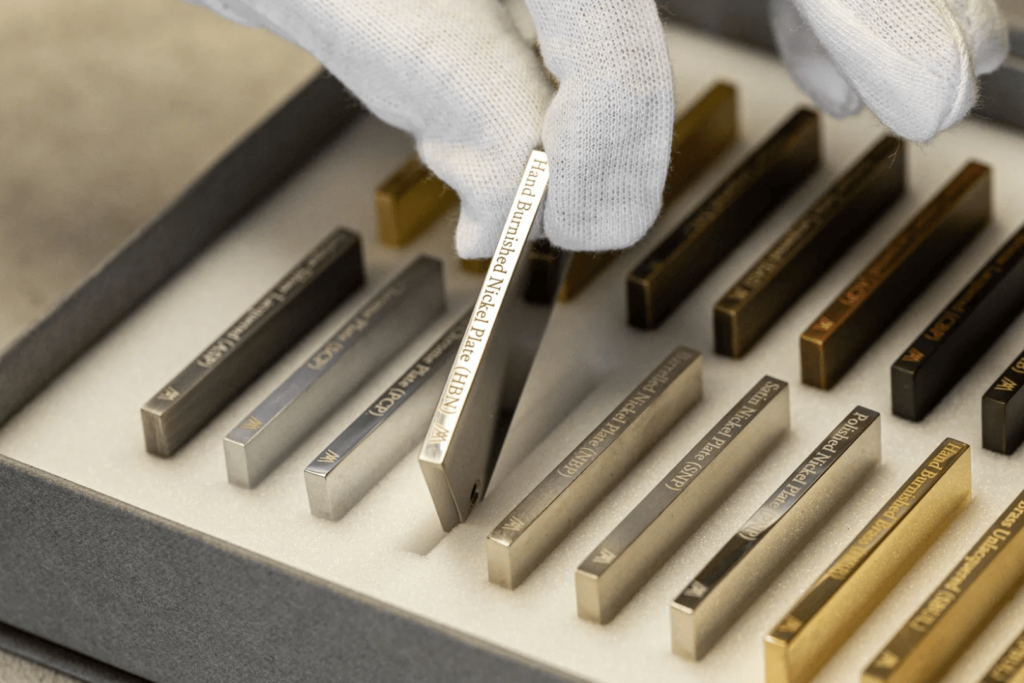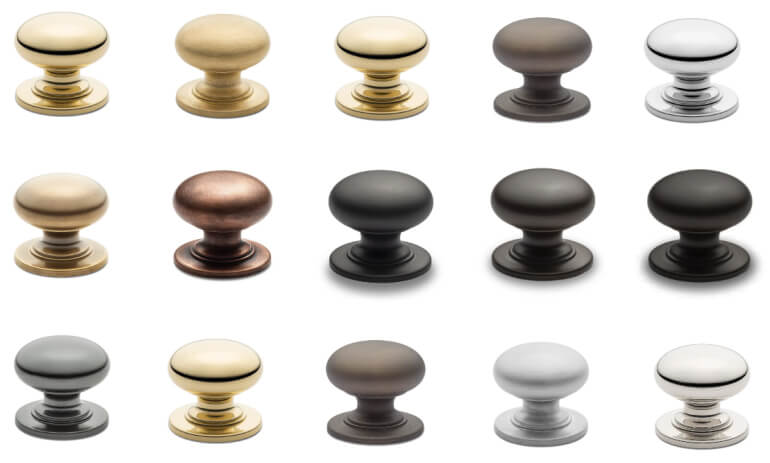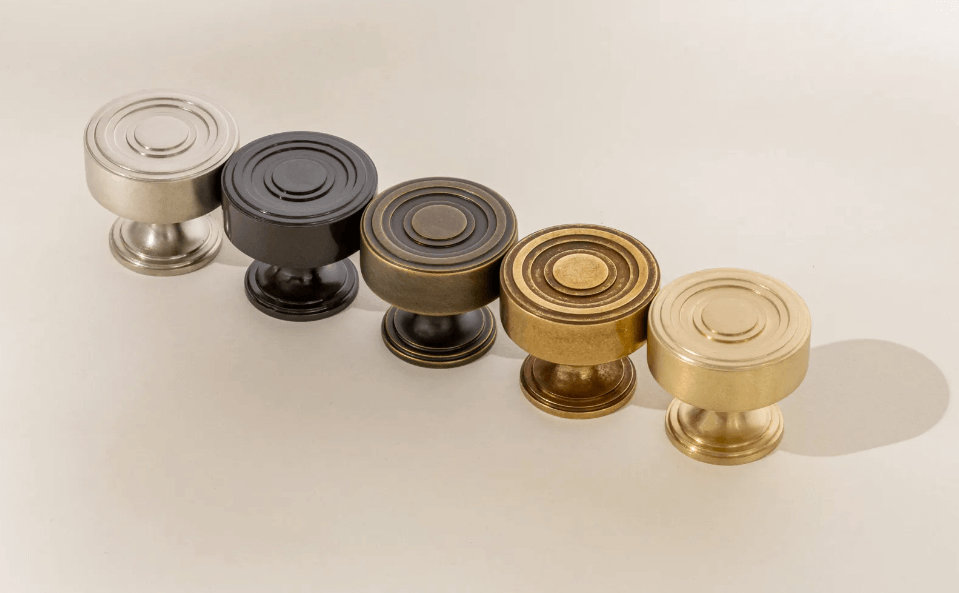 Several months of work allow us to achieve the final effect in the form of a detailed and well-refined interior design project. Now everything seems so easy…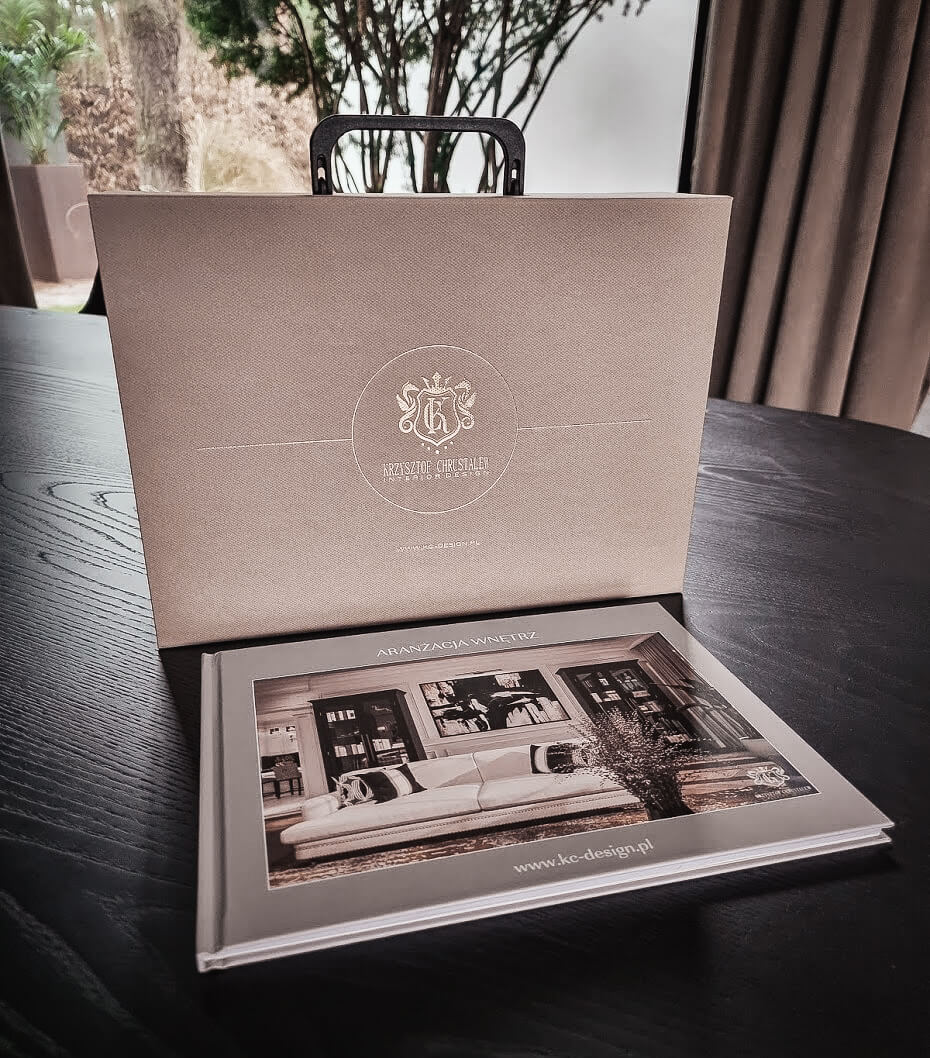 The selection of appropriate wallpaper shades, fabrics, and decorations is made after the project is completed, live from the collections currently available or by special order. We invite you to our showroom.
What is included in a standard project?
Property survey, i.e. measurement at the client's place; if it is a trip outside Poland, each trip is priced individually.
Functional arrangement
Additions and demolitions
Lighting and all aspects connected with it: location of ceiling and wall points with an accuracy of 1 cm, switches and lighting circuits located on walls at appropriate heights and preparation of design for interacting with the smart house, if any.
Electrical wiring for roller blinds and electric curtains, if any.
Electrical wiring of sockets with positioning also on the views of technical drawings.
Positioning of pipes and plumbing fixtures
Location of air-conditioning equipment
Technical drawings for suspended ceilings
Technical drawings for floors
Technical drawings for stuccowork
Tile and stone laying subdivisions – suggested
Wall coverings
Plans and views of each room with detailed descriptions of given branches
Detail drawings of built-in furniture and free-standing furniture to be manufactured in carpentry workshop, upholstery workshop
Technical drawings of carved components to be produced by sculptors
Drawings of kitchen and bathroom worktops
List of all furniture including indication of company name, brand and symbol as a suggestion (photograph)
Material table including: Type of stones, tiles, glazing, and other finishing materials with the amount of ordered square meters
Realistic, based on realistic dimensions and furniture – computer visualizations showing a real project – how a given room will look like in the future after it is completed.
How does it happen over time and what are the stages?
The basic design process involves 4 stages:
– property survey
– conceptual design
– executive design
– bill of materials
– author's supervision / on-site supervision – if required
Property survey:
Aims to collect all possible dimensions of the designed rooms.
Conceptual design:
After the client has provided all functional guidelines and expectations, we develop visual and material solutions usually in several variants. At this stage, during a series of meetings, we discuss the solutions introduced on the basis of preliminary drawings and/or visualizations until the client's approval is obtained, which is the basis for preparing execution documentation.
Executive design:
Its scope includes executive drawings of the interior design, later submitted to the construction site. They include furniture layout, arrangement and finishing of walls, ceilings, floors, guidelines for individual branches: electrical, sanitary, IT and others. Depending on the scope of services, to the set of documents we also attach detailed drawings of custom-made furniture, furniture development, kitchens, finishing details.
On-site supervision:
During the construction works we conduct coordination and author's supervision in terms of compliance with the design.
———————————————————————————————
In our opinion, every person who wants to create an interior must be provided with a decent design, usually it is from 70 to 250 A3 pages of detailed design depending on the complexity and sophistication of the design, which involves the time of preparation. Preparing a design for a 300 m2 house in classic style in 30 days is simply not feasible… In most cases, the project takes about 90 working days.
Once the design is completed, on the client's request, we deal with the valuation of individual elements of the interior or the complete project.
Scope of services, the very essence of what we do:
– interior design of flats and houses;
– designing public utility interiors (offices, shops, hotels);
– author's supervision, project coordination;
– 3d computer visualizations;
– carpentry furniture, custom-made built-ins;
– design of upholstered furniture on an individual order;
– sale of decorative and upholstery fabrics and wallpapers;
– sewing of curtains, decorative roller blinds, bedspreads, pillows, bed linen;
– sale of decorative lighting of numerous European brands;
– design and production of lamps for individual orders;
– sale of decorative elements used in interior design: flower pots, artificial plants, paintings.
We will answer all your additional questions at: +48785958111
Below are just a few pages of an example of a full design project, which includes fully tens to hundreds of pages of A3 format of tailor-made detailed executive design.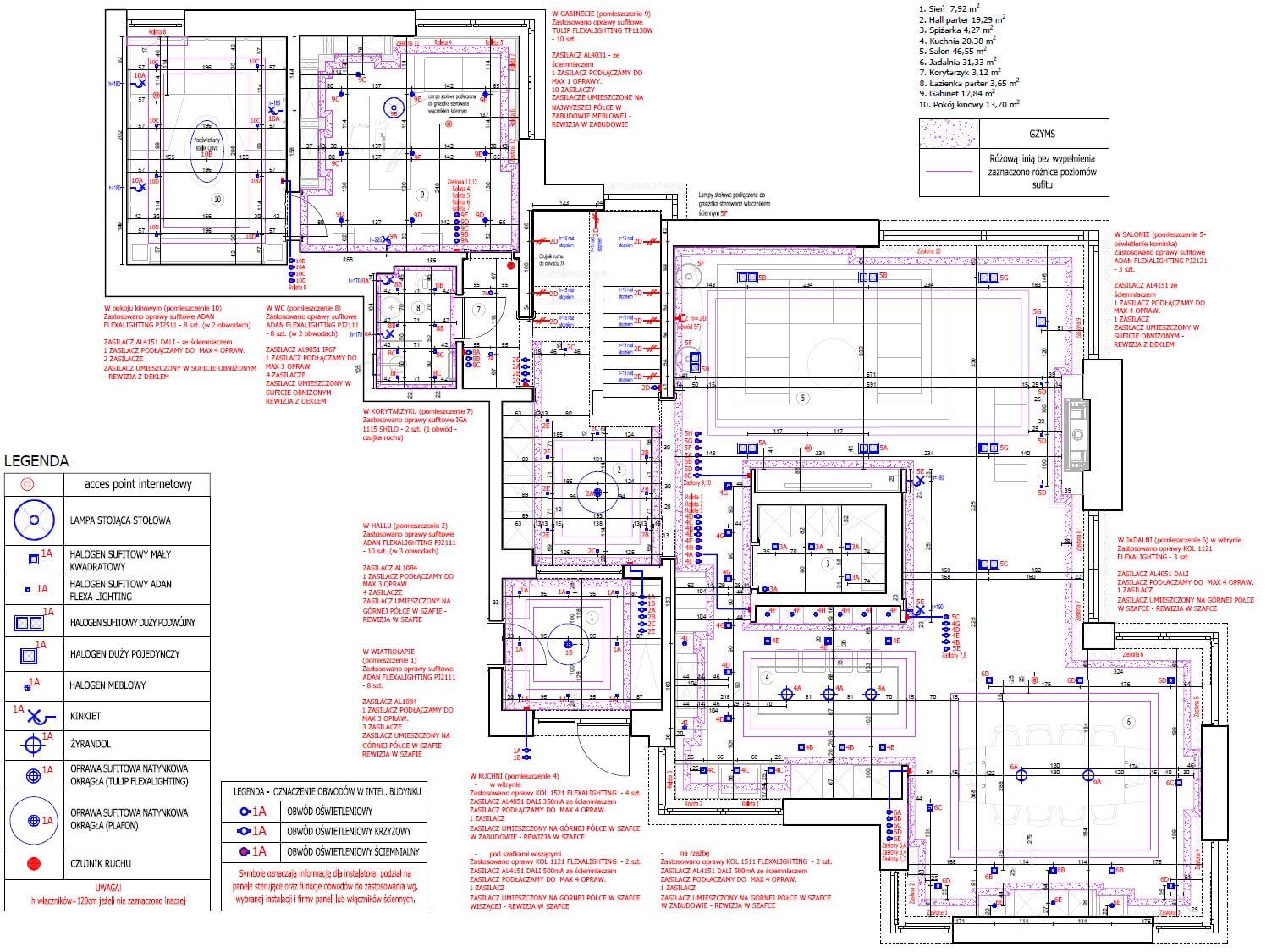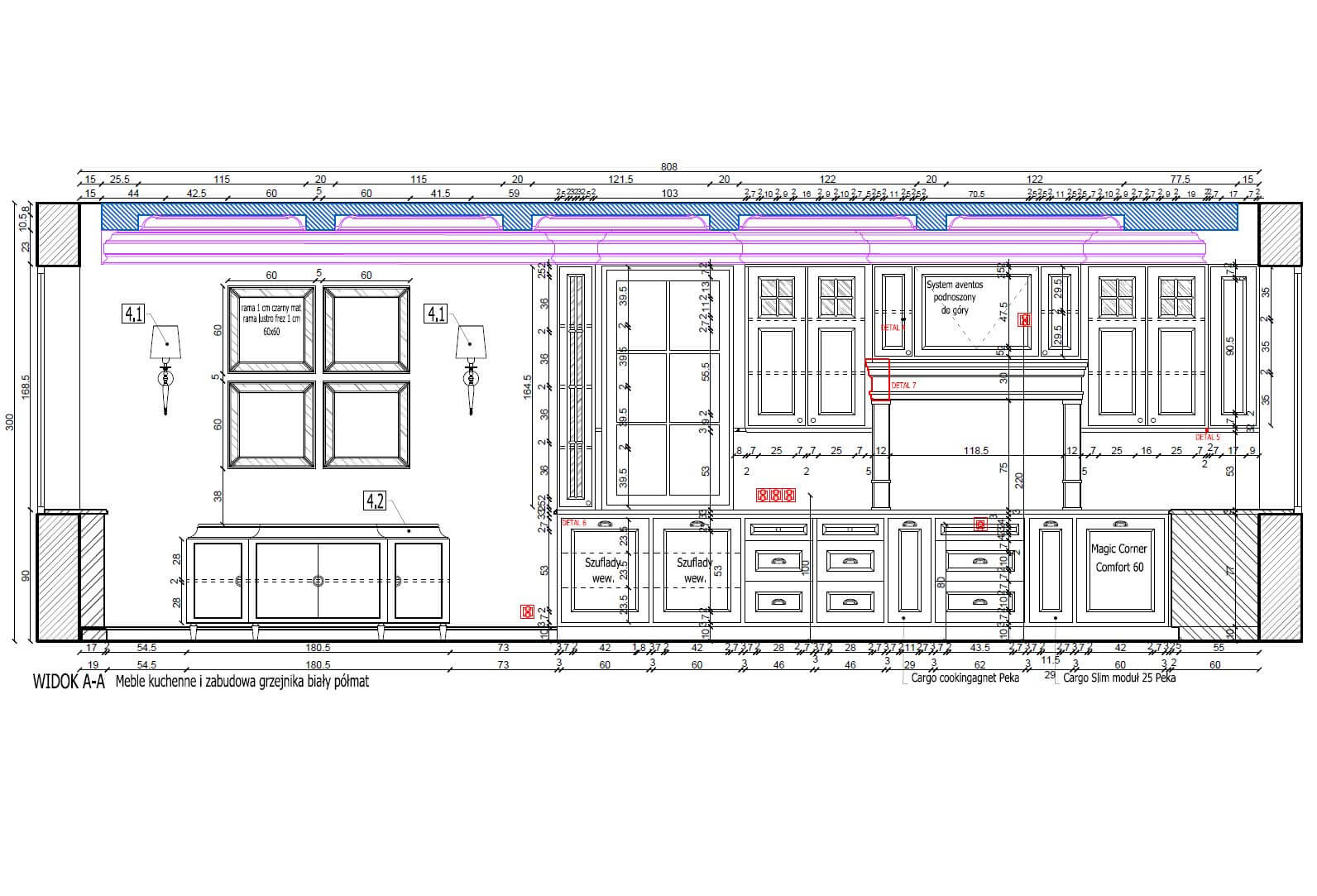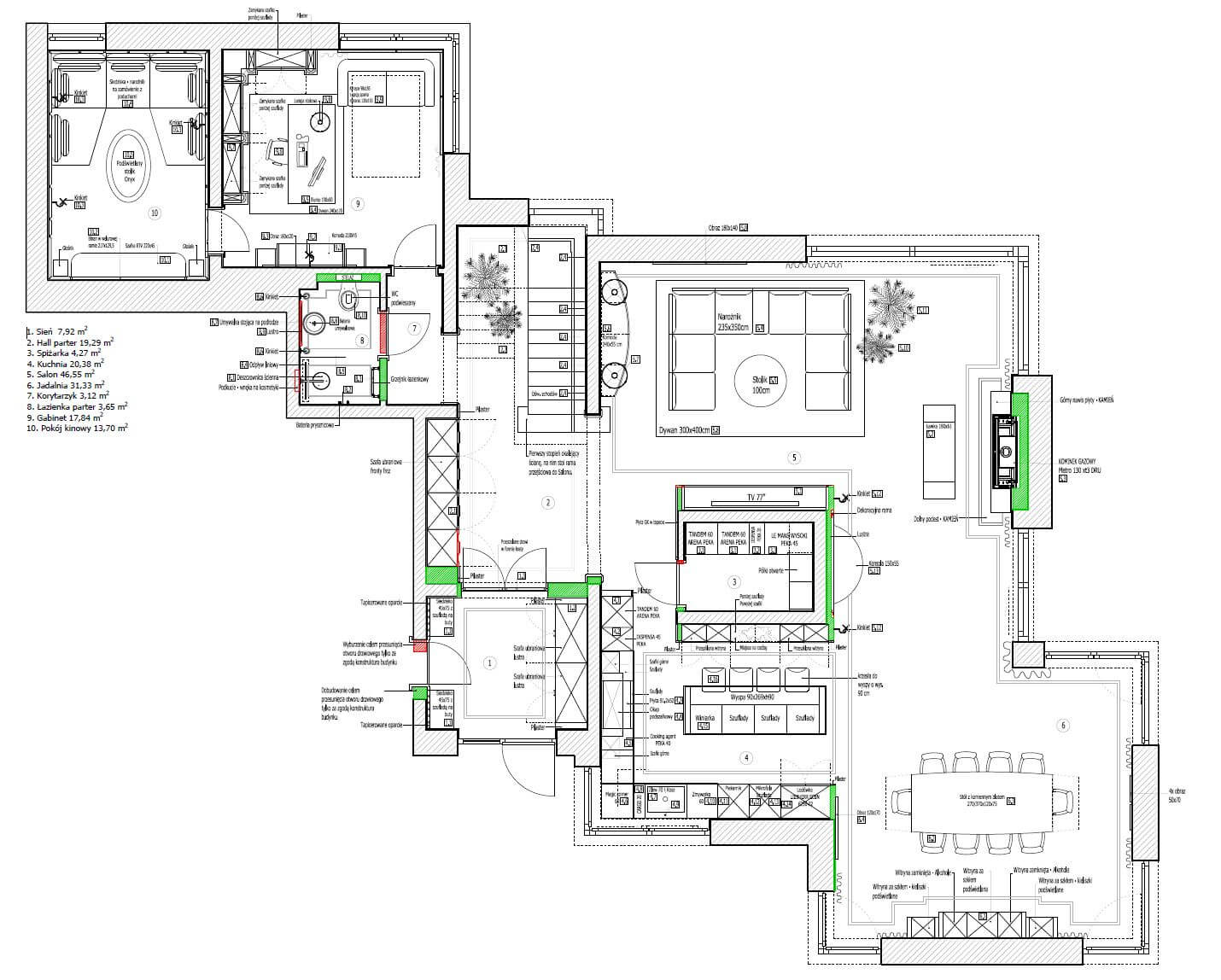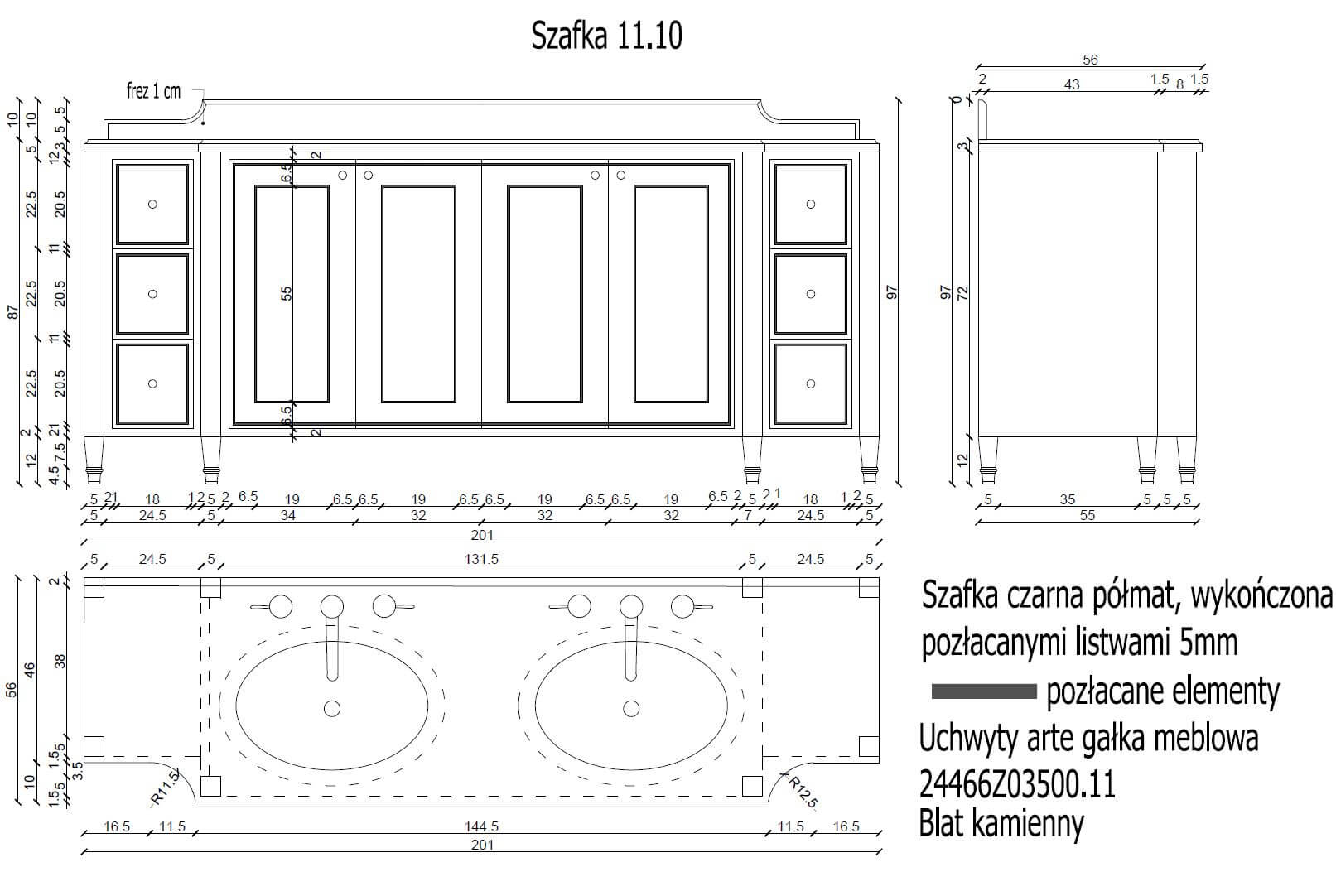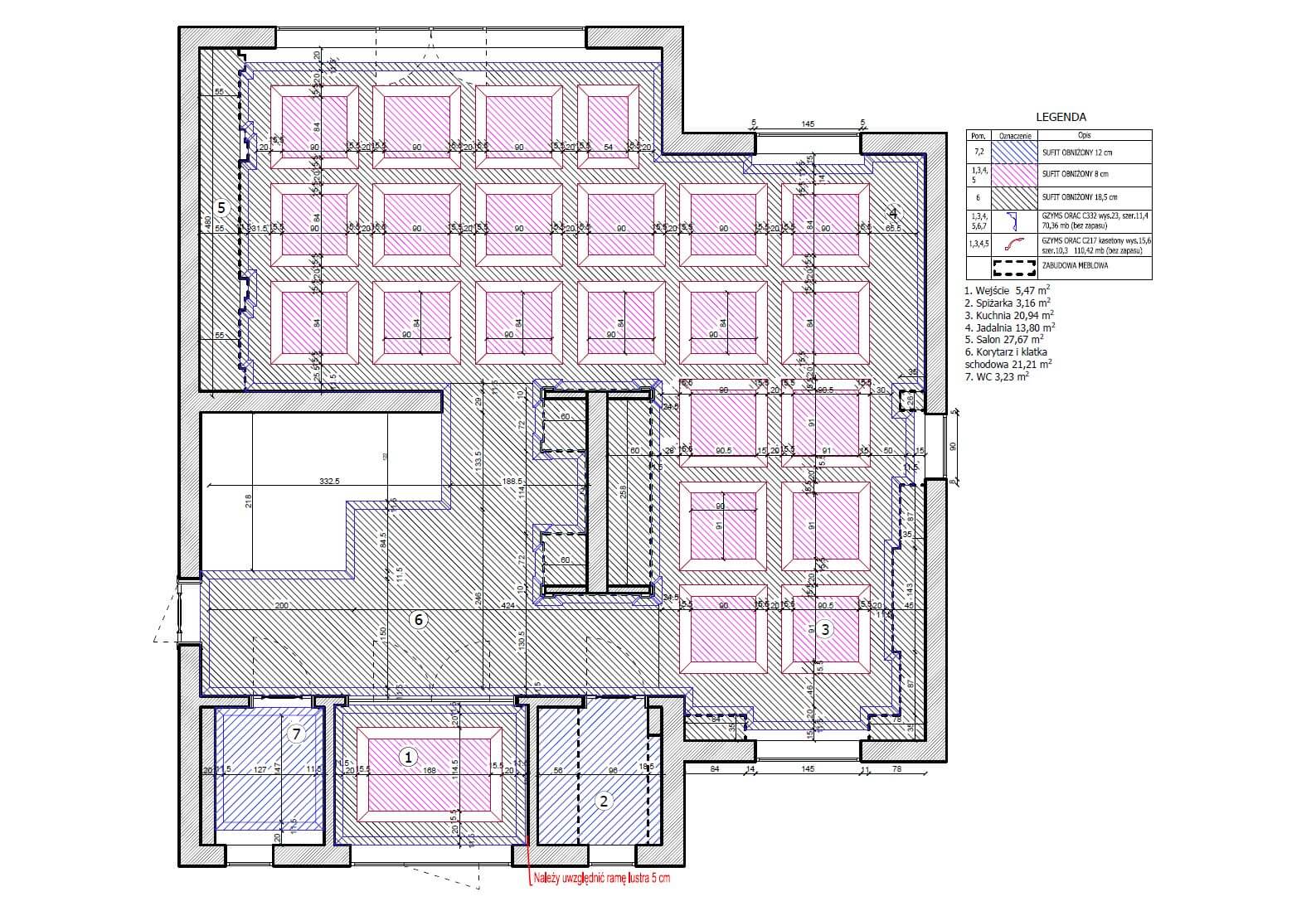 How to start cooperation?
We kindly ask all interested parties to send a floor plan of the rooms to chrustalew@gmail.com, in which we would undertake the project of arranging luxury interiors along with a description, surface area, purpose of the rooms, their height, and a description of expectations. After reviewing your documentation, we will send you a quote.
If the quote is accepted, we prepare a contract for inspection. After confirming that everything is correct, we arrange a meeting, but first we ask you to fill out a survey prepared by KC-DESIGN, our collection of requirements, expectations, and dreams…
After signing the contract, we rely on the available documentation if the building is under construction, or we come to the site and perform an inventory and photographic documentation. Unfortunately, plans from the developer or architect often differ from the final dimensions on the construction site, which is why our company personally takes measurements using laser methods.
The next stage of cooperation is to present several functional layout concepts. After accepting the refined layout, we prepare a visualization of the project. When the client can review it, they can easily and clearly make corrections and evaluate if they like the style. After approving all visualizations, we start preparing technical documentation, all necessary drawings to execute the approved interior visualizations, summaries, and complete documentation.
We invite you!